- February 1st, 2011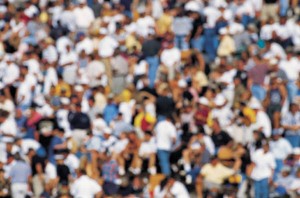 "God cannot lead you on the basis of facts you do not have," so noted Ralph Winter in an editorial written on January 1, 2007.  While I do not completely agree with this statement–God is not limited by my ignorance–there is a good deal of truth to be found here.  God generally guides His people based on their understandings of reality.
Joseph knew a famine was coming so he led a nation to prepare for it.
Nehemiah was moved to build the wall based on a report of the physical and social situation of Jerusalem.
In this last post in my two-part series on the reality of UPGs residing in the West, I want to turn our attentions toward the United States and Canada.
We Evangelicals have better data on peoples in some of the most remote places on the planet than we do in our own neighborhoods.  Such is a shame.
Consider that most individuals and churches do not know that:
There is a very large number of UPGs residing in the United States and Canada (I estimate several hundred groups)
The best data we have is a listing of the UPGs by names and population sizes
We do not know the Evangelical percentages–if any–of most of the UPGs
We know very little about who is ministering to some of these peoples and to what degree
We have better data on most UPGs across the world than we do on those same UPGs living in the U. S. and Canada
Why I am upset
The main reason that I am upset is that the Lord has brought the nations of the world to our communities and we in the United States and Canada are not aware of this reality and the potential for gospel advancement across North America and the world.  Such is a matter of stewardship, and we have failed greatly in this area.
The United States is the world's largest immigrant receiving nation.  And both Canada and the United States are very ethnically diverse with the peoples of the world (Canada more so than the U.S.).  The United States is the third largest country in the world in population.  Canada is geographically the second largest country in the world.  Therefore, researchers being able to provide quality data that is beneficial to missionary strategy face great challenges and a great deal of work.  But it can be done.
The reality is that these two countries are two of the most researched nations on the planet.  General academia has a great wealth of data already to assist us.  Evangelicals easily have the people, churches, and the financial resources available to do what is needed.
While we rallied the troops to understand the UPGs in the 70s-90s, we failed to organize for such domestic labors.  We not only are reaping the problems of such oversight in the United States and Canada but have limited our work "overseas" as well.  For example, how many of the UPGs who are strangers next door to us, that if reached, would be the gateway into many of those peoples we've been trying to reach for decades in their home countries?  Our myopic missiology treated missions as a one-way street, while teaching us that domestic mission was mainly evangelistic outreach.
The good news is that conversations are occurring that address this problem.  Unfortunately, these conversations are several decades late–a much too common trend among Evangelicals.  But something is better than nothing at all.  I hope.
God can lead us, even in our ignorance.  But in His economy He sure seems to honor and lead in a more specific manner when His people are good stewards with their resources–which involves knowing their contexts.   Remember what He did with men like William Carey and Ralph Winter–who did their research and shared it?
What are your thoughts on this topic?  Does it surprise you that we know less about the peoples living among us, than we do about them in their countries of birth?
3 Responses to "Unreached Peoples in the West-Part 2"