- September 1st, 2011
Bruce Ashford's book, Theology and Practice of Mission: God, the Church, and the Nations, was released yesterday.  I want to encourage you to add this work to your library.  Bruce is an Associate Professor of Theology and Culture and Dean of the College at Southeastern Baptist Theological Seminary.
Recently, I had a chance to communicate with my friend about this book.  While today's post is a bit longer than typically found here, I believe the content of this interview justifies the length.  Enjoy!
Can you summarize your book for us?
The purpose of Theology and Practice of Mission is to provide a biblical-theological framework for understanding the church's mission to the nations. Toward this end, the book is divided into four parts: God's Mission, the Church's Mission, the Church's Mission to the Nations, and Concluding Challenges.
What is unique about the contributors and the book's structure?
Although this book is an edited volume (with 18 authors), it has an inner coherence fostered by the narrative rubric (Creation, Fall, Redemption, Restoration) with which each of the chapters is in conversation. Because edited volumes often are collections of previously published material or odd and disparate essays, the authors came together around this common narrative rubric, and around a few common themes (e.g. theologically-driven missiology) in order to write essays that, hopefully, have a certain "fittingness" in their relation to each other.
Also notable is the unique collection of authors. We have carefully chosen authors who embrace and embody the necessary connection between orthodoxy and orthopraxy, between theology and mission, between theory and practice. Several of the contributors are professors, several of them are pastors in the United States, but the majority of the chapters are written by North American or international church planters. The chapters are penned by men and women whose ministry contexts vary geographically, including authors who serve or have served in the United States, South America, North Africa, the Middle East, Central Asia, South Asia, the Pacific Rim, and Sub-Saharan Africa. All of them, however, share the conviction that our mission must be driven by Christian Scripture and sound theology, and that theology disconnected from mission is not Christian theology at all.
Why is this book important for today's reader?
Hopefully, today's reader will find it a helpful guide for both the theology and the practice of mission. We've really tried to rivet those two things together. During the course of the past twenty years, I have found myself ministering in various contexts, including ministry as an evangelist, missionary, pastor, and theologian/missiologist. On the one hand, I think that we seminary professors can sometimes build our theologies without an eye toward practice, which is unhealthy because theology always issues forth in practice, and actually shapes that practice. On the other hand, I think that we who are cross-cultural workers (whether as pastors, church planters, or missionaries) sometimes "bank on" our evangelical theology and its attendant view of inspired Scripture, and then get on with our ministry and mission practices without allowing our theology to shape it. I've been in both situations (times when I was primarily a practitioner and now when I am vocationally a theologian/missiologist) and I've found myself tempted to err in both situations. This book intends to be an encouragement and a challenge to bind together theology and missiology.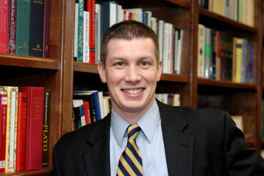 Your book covers several topics. Why the breadth?
That is a good question. Maybe a good way to begin answering is to point out that missiology truly is an interdisciplinary enterprise. Within the theological disciplines, missiologists and missionaries draw upon hermeneutics, exegetical theology, systematic theology, evangelism, education, and numerous other sub-disciplines. Outside of the theological disciplines, however, they also find themselves drawing upon anthropology, sociology, history, world religions, history of philosophy, and other fields of knowledge.
Then, a second consideration is the multi-layered nature of the matter at hand. In order to treat the church's mission to the nations, one must start with the mission of God. Although the mission of God is not synonymous with the church's mission, the mission of God provides the context for, and frames, the church's mission. After having treated the church's mission, we apply that mission to international contexts, and then after doing so conclude with some challenges that call us to action.
What is the benefit of this book to the local church pastor?
God's church is the nerve center of his kingdom and of his missionary work, and God-called pastors are therefore his lieutenants on the most important "battlefront" in world history. We hope and pray that pastors will find this book helpful in sorting out an almost dizzying array of questions that arise from any discussion about mission, such as:
What does the Bible say about mission?
Why should the church be involved deeply in missions, rather than merely outsourcing to an agency?
Why should my church be involved in church planting?
Why should my church view its USA context missiologically, and how can this affect the growth and the health of my church?
How do I tell the gospel story in such a way that speaks to Muslims? Buddhists? Postmoderns?
What does the Bible say about culture?
How do I conceive the relation of the gospel, church, and culture?
How do I begin to think through the relationship between the gospel and social issues?
I have often stated that our theologians need to be missiologists and our missiologists need to be theologians. Why is it that theology and missiology must be wed together?
If you'll allow me to, I'd like to quote an excerpt from the book which really encapsulates my thoughts on this issue:
"Indeed, one of the most significant challenges facing churches, agencies, and missionaries today is the imperative to allow Christian doctrine to shape their actual ministry practices. Although our evangelical churches have declared their belief that the Christian Scriptures are ipsissima verba Dei, the very words of God, our declaration is not always consistent with our actions. In reality, we sometimes ignore Scripture when forming our strategies, methods, and practices. It is as if we are saying that what we believe about God is important, but how we practice those beliefs is not.
If we are not careful, these fissures between belief and practice will derail our mission and render our evangelical theology impotent. A faulty doctrine of God, for example, will lead us to a wrong definition of success. A poor hermeneutic will lead to an aberrant definition of God's mission and of our mission. A misguided soteriology neuters our attempts at evangelism and discipleship. A reductionist ecclesiology will result in anemic churches that fail to disciple their members or reach their communities. In order to foster a healthy mission, therefore, we must seek carefully, consciously, and consistently to rivet missiological practice to Christian Scripture and its attendant evangelical doctrine" (pp. 294-5).
——-
Thanks, brother, for sharing with us today.
Make sure you get a copy of this work.  For those of you interested in a glimpse at the contents of the book, here you go:
Section 1.  God's Mission
Chapter 1:  The Story of Mission: The Grand Biblical Narrative
Chapter 2:  The Triune God: The God of Mission
Section 2.  The Church's Mission
Chapter 3:  The Agents of Mission: Humanity
Chapter 4:  The Heart of Mission: Redemption
Chapter 5:  The Community of Mission: The Church
Chapter 6:  The Gospel and Evangelism
Chapter 7:  The Gospel and Social Responsibility
Chapter 8:  The Gospel and Culture
Chapter 9:  The Gospel and Lifestyle
Section 3: The Church's Mission to the Nations
Chapter 10:  The Hebrew Bible and the Nations
Chapter 11:  The New Testament and the Nations
Chapter 12:  Mission and Unreached People Groups
Chapter 13:  Mission and Discipleship
Chapter 14:  Mission and Church Planting
Chapter 15:  Mission and Suffering
Chapter 16:  Mission to Muslims
Chapter 17:  Mission to Hindus
Chapter 18:  Mission to Buddhists
Chapter 19:  Mission to Animists
Chapter 20:  Mission to Postmoderns
Section 4: Concluding Challenges
Chapter 21:  A Theologically Driven Missiology
Chapter 22:  A Challenge for Our Churches