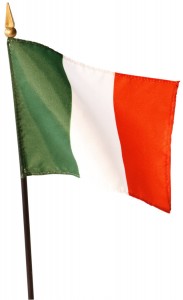 Because St. Patrick's Day is approaching, I thought it would be helpful to consider this holiday from a different perspective.
First, if you have not read The Confessions of St. Patrick, let me encourage you to do so during this time of the year.  It is a brief work and offers a glimpse into the life and work of this missionary.  You can get a free pdf of the book HERE or you can read it on-line HERE.
Second, I want to draw your attention to the most recent numbers of Irish-Americans in the United States today.  Whenever we consider the U. S. history of the nineteenth and twentieth centuries, the migration of the Irish people receives a significant place of attention.  Their massive numbers arrived on these shores and have since been a powerful force of influence shaping society and culture.
As you consider these numbers below, I want to encourage you to reflect on the present numbers of peoples migrating today. Consider the very large number of Mexicans who have recently arrived in the U. S.  What about the numbers from India?
In light of what we know regarding the Irish heritage of the U.S., how should we think missiologically about the contemporary massive numbers of the world's peoples who are migrating to this country?  I fear that many of our churches do not realize the Kingdom potential that exists among our brothers and sisters arriving in our neighborhoods.  Those who arrive as believers need faith families to join.  They need to catch the vision for global disciple-making.  They need to be equipped for Kingdom advancement.  They need to be a part of teams commissioned and sent across the street and across the world to plant churches.
And while 49% of international migrants are Christians, half are not.  I also fear that our churches have not opened their eyes to the hand of our Lord Who is the One that moves the nations for their salvation (Acts 17: 26-27).  Here we have a wonderful opportunity to show and share the love of Jesus.  Our Lord has told us to go into all the world, but in His grace, He has also brought the nations to us.
Consider the following information recently released from the U. S. Census Bureau:
There were 34.7 million people who claimed Irish ancestry in 2010. This number was more than seven times the population of Ireland itself (4.58 million). Irish was the nation's second most frequently reported ancestry, trailing only German. This number is down from 36.9 million in 2009.
There were 144,588 Irish-born naturalized U.S. residents in 2010. The median age of those who claim Irish ancestry is 39.2 years old, which is higher than that of the total U. S. population (37.2).
13% New York state residents were of Irish ancestry in 2010. This compares with a rate of 11.2 percent for the nation as a whole.
33% of those who claim Irish ancestry in the U. S., 25 or older, had a bachelor's degree or higher. In addition, 92.5 percent of Irish-Americans in this age group had at least a high school diploma. For the nation as a whole, the corresponding rates were 28.2 percent and 85.6 percent, respectively.
The median household income  for households headed by an Irish-American is $56,363, higher than the $50,046 for all households. In addition, 6.9 percent of households of Irish ancestry were in poverty, lower than the rate of 11.3 percent for all Americans.
Here are the numbers on those with Irish ancestry.  If the Lord allows, what will be the numbers, ancestry, and influence of equivalent future generations in this country? Will the gospel be on their hearts?  Will the Church respond appropriately while it is still day?
When St. Patrick's Day arrives, I do hope you are able to have some fish n' chips.  But while we're having our meals, let us remember the potential for gospel expansion as another family passes through U. S. Immigration and moves in next door.