- September 6th, 2013
Lord willing, in just over a week from now, my next book is scheduled to be released with Baker Academic.  Developing a Strategy for Missions is a work that John Ma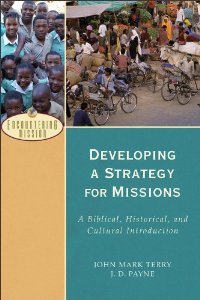 rk Terry and I coauthored, hoping to fill a gap in the literature.  While there have been several resources published related to strategy in general, and developing strategy for established churches in particular, little exists on the development of missionary strategy.  The most significant work on this topic was Planning Strategies for World Evangelization by Edward Dayton and David Fraser (originally published in 1980, and revised in 1990 and 2003).  While Mark and I are in no way attempting to compete with them–in fact we have been highly influenced by them and note this in our work–we are hoping that our book will be of assistance to a new generation of pastors, church planters, and agency leaders as they seek to develop Christ-centered strategies in the twenty-first century, while avoiding the dangers of pragmatism that can easily creep into the strategy development process.
Earlier this year, I wrote a post on the origins of this book and its contents.  Today marks the beginning of a series of posts that I plan to share with you over the next several days.  In addition to providing you with a glimpse into the book, I am hoping that I may be able to offer you some theological and practical insights as you seek to develop your strategies for the multiplication of disciples, leaders, and churches among those who do not know Him.  If you are not a subscriber to this blog, be sure to check back periodically for these posts.
If you are interested in reading what others are saying about the book, you may find that HERE.  If you would like to read an excerpt from the book, a pdf may be found HERE.
I hope you get a copy of the book, recommend it to others, and put it to use!
2 Responses to "Developing a Strategy for Missions"