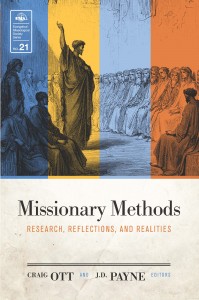 I wanted to share with you a book that was just released a few weeks ago.  Craig Ott and I co-edited Missionary Methods: Research, Reflections, and Realities (William Carey Library) as a part of the Evangelical Missiological Society Series.
2012 marked the 100th anniversary of the publication of Roland Allen's classic, Missionary Methods: St. Paul's or Ours?.  It was in light of this historic moment that the Evangelical Missiological Society selected "missionary methods" as the theme for last year's meeting.  This book includes presentations made during that gathering.  The chapters that comprise this book address theological foundations, historical matters, and practical issues related to missionary methods.  The following is a look at the table of contents:
Introduction: "Methodological Stewardship: Always Evaluating, Always Adjusting" by J. D. Payne
PART I – Biblical Understandings of Missionary Methods
Chapter 1: "Missionary Methods: St. Paul's, St. Roland's, or Ours?" by Robert L. Gallagher
Chapter 2: "Roland Allen's Understanding of the Spirit's Centrality in Mission" by Rob S. Hughes
Chapter 3: "Reassessing John Stott's, David Hesselgrave's, and Andreas Köstenberger's Views of the Incarnational Model" by John Cheong
PART II – Praxis and Case Studies of Missionary Methods
Chapter 4: "From Roland Allen to Rick Warren: Sources of Inspiration Guiding North American Evangelical Missions Methodology 1912–2012" by Gary R. Corwin
Chapter 5: "A Prolegomena to Contextualized Preaching Concerning the Wrath of God and the Judgment of Man: What Did Roland Allen Know that We Sometimes Forget and at Other Times Never Learn?" by David J. Hesselgrave
Chapter 6: "The Rise of Orality in Modern Missions Practice" by Anthony Casey
Chapter 7: "Missionaries in Our Own Backyard: The Canadian Context" by Joel Thiessen
Chapter 8: "Islands of the Gods: Productive and Unproductive Missionary Methods in Animistic Societies—Roland Allen's Examination of Saint Paul's Use of Miracles" by Robert H. Bennett
Chapter 9: "Leaders Reproducing Churches: Research from Japan" by John W. Mehn
Chapter 10: "Paul's or Theirs?—A Case Analysis of Missionary Methods among Muslims of the Philippines" by Mark S. Williams
Conclusion: "Missionary Methods: The Questions that Still Dog Us" by Craig Ott
I certainly hope that you will check out this new book. I have been told that the electronic version will be released shortly.