This is the fourth post in my series on how The Church at Brook Hills is sending church planting teams to unreached people groups in North America. After the Inquiring Step, we take our members to the Assessing and Equipping Steps. Both of these steps are related to one another. Though there is a baseline of training for all teams, we customize the training process based on what is discerned in the personal assessment process (which takes place over several months).
It is important to pause here and note the six components we examine in the lives of potential church planters. I plan to share more practical details in the future, but this list will give you an idea of our big picture.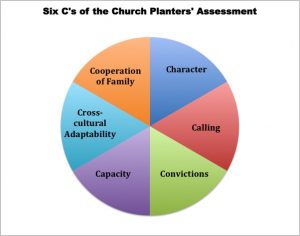 Character. Does this person reflect a Christ-like character?
Calling. Does this person have a calling to make-disciples of this unreached people group, in this location, with this church planting team?
Convictions. Does this person have the biblical, theological, missiological, and strategic convictions that we have as a faith family when it comes to making disciples of all nations? Is Brook Hills' DNA present in the person?
Capacity. What is this person's leadership capacity? How does this person lead?
Cross-cultural Adaptability. How well will this person adjust to life and ministry outside of Birmingham and with an ethnic minority people group? How well will this person contextualize sharing the gospel, teaching obedience, and training new pastors outside of our Birmingham, megachurch, suburban context?
Cooperation of Family. Husbands and wives are viewed as church planters. What is the health of their marriage? Both individuals must be on the same page when it comes to this vision, calling, and ministry. If children are present, what are their attitudes toward this ministry? What is the health of the family?