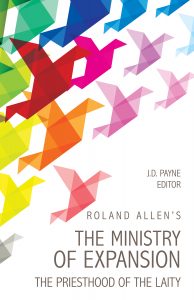 Roland Allen's The Ministry of Expansion: The Priesthood of the Laity is to be released by William Carey Library on September 15. It will be at the Evangelical Missiological Society's meeting in Dallas that day. If you are attending the event, stop by the book table and be one of the first to purchase a copy.
The heart of this book is an unpublished, almost 80 year old, Allen manuscript.
Many people are familiar with Allen's writings such as Missionary Methods: St. Paul's or Ours? and The Spontaneous Expansion of the Church. In fact, check out this post, you may be a Roland Allen fan and not know it.
In the late 1930s, Allen wrote The Ministry of Expansion: The Priesthood of the Laity. This work addressed the topic of who could officiate Communion, in newly planted churches, when priests where yet to be identified and ordained.
Allen, a high-church Anglican, valued and supported his Church's tradition where mature ecclesiastical structures were in place. However, he argued that the Scriptures allowed for a different paradigm in areas of the Majority World (e.g., China) when men were unable to follow the preferred ways of the West.
This book is a wonderful glimpse into the heart and mind of one of the most influential mission thinkers of the 20th century. It is a book that asks the question, "How should the Church respond when her traditions are unable to keep up with the work of the Spirit?"
This is a question for us today, too.
In anticipation of this publication, my book, Roland Allen: Pioneer of Spontaneous Expansion is on sale for $0.99 in the Kindle store. This book is your one-stop shop for understanding the life and missiology of the man whose influence is still strong today.
I do hope you will get a copy of The Ministry of Expansion. Stay tuned. I plan to share more.