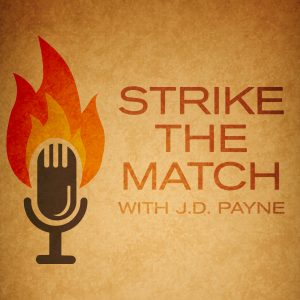 Japan is a very influential country and home to one of the world's largest unreached people groups. John Mehn is my guest in this episode of Strike the Match. His new book, Multiplying Churches in Japanese Soil, sheds light on what the Spirit is doing among this great people. Can churches multiply eleven-fold and increase by 30% in 5 years? Can conversions and baptisms  increase by 6 times? In Japan?!! Mehn's research says yes!
In addition to church growth and challenges to gospel advancement, we discuss Japanese history and cultural shifts that have occurred since 2011. The evangelical percentage among the Japanese is estimated to be less than 0.5%, yet Mehn shares some amazing information on the birth and growth of churches in the country.
Mehn has served in Japan with Converge Worldwide (formerly Baptist General Conference) since 1985. He has extensive experience in church planting, leadership development, and mentoring. Since 1997, Mehn has been the chair of the JEMA Church Planting Institute, an interdenominational network with the Japanese and missionaries.
You may find Mehn on-line at jcpi.net and gospelrest.com. Be sure to check out his book too!
Podcast: Play in new window | Download
Subscribe: Apple Podcasts | Android | RSS