- May 5th, 2015
I recently did some writing on controversies in the book of Acts. Halfway through the book, the reader comes across the Jerusalem Council–a gathering born out of gospel advancement.
One of the fascinating matters about this gathering is related to James' argument. After hearing about the conversion of the Gentiles, he looks to a minor prophet for guidance, not a Great Commission mandate from the lips of Jesus. Christopher Wright draws attention to this in The Mission of God's People:
One could easily imagine Peter standing up to say to the critics, "Listen, friends, Jesus told us to go and make disciples of all nations and that is what Paul and Barnabas are doing. So back off!" But instead, James settles the matter by reference to the prophetic Scriptures. He quotes from Amos 9 and affirms that what the prophet foresaw is now happening: the house of David is being restored and the Gentile nations are being brought in to bear the name of the Lord. That's where the story pointed, and that's what was now happening (37).
The first century Jewish believers were experiencing the grafting in of the Gentiles. Genesis through Malachi was a sufficient foundation for understanding the mission.
If we did not have the New Testament, would we be able to teach our people about God's mission in the world and our role as His people?
Of course, we have the complete cannon of Scripture. Yet, how much do we know about the Great Commission according to the Old Testament (even beyond Genesis 12 and 15)? When we talk about mission do we exclusively take our people to the New Testament? If so, what does that hermeneutic communicate to them about the mission of God?
- May 4th, 2015
The school year is almost over. Our church recognized graduates this past Sunday. This is a common practice among some churches in the U. S.. We asked our graduates to stand during the worship gathering, gave them a brief challenge, reminded the church to pray for them, and had a time of prayer for them as they plan to enter the marketplace or additional education.
While this is good practice, more is needed–much more, and long before graduation day.
Here is a PSA (Public Stewardship Announcement) that I often remind myself of:
Pastors, we must shepherd our members to the field. The stewardship we have with the students of our churches is a great trust.
Long before graduation day:
1) Lay the Foundation.  Give your students the whole counsel of God (Acts 20:27). Teach them a biblical worldview (2 Tim 2:2; 4:2-4) and how to study and apply the Word.
2) Develop Disciple Making and Church Planting Skills.  Yes, we must do this for everyone. Everyone needs to be taught how to make disciples. And since church planting is a small step from that (Remember, your church is closer to planting than you probably think.), we should teach them how to plant churches. Not everyone will be a church planter, but we will enable them to say, "I can do that!" or "I can help a church planter do that!" If our churches are only providing biblical knowledge, then we are only halfway there. We must teach students obedience to all that Christ commanded (Matt 28:20; 1 Tim 4:11-16), and this includes how to make disciples.
3) Provide Guidance Counseling. Yes, our churches must absolutely do this, too. It is part of the great stewardship we have received. We must call our students to marketable skills and degrees. Why would we ever leave one of the most important decisions in our students' lives to the whims of youth, unbelieving guidance counselors, or peer pressure? If we have been giving them a vision for God's glory among the nations and helping them understand God's world, then we need to be shepherding them into the marketplace where they can make the most impact multiplying disciples and churches across North America and throughout the world. We must show the connection between their vocations and God's global mission!
———
The United States and Canada contain the third and fifth largest numbers of unreached people groups in the world, respectively. Check out last Friday's episode of Strike the Match ( iTunes or through RSS) to hear what some people are doing to discover and engage these unreached peoples.
- May 3rd, 2015
Four Fields of Kingdom Growth is an excellent church planting resource. I am so thankful for our brother and sister who took the time to write this back in 2007. It is a doctrinally-sound work that was birthed out of praxis, not theory, and is being used of the Lord in an amazing way.
Some of you are very familiar with Four Fields. However, most people, particularly those serving in the Western world, are not aware of this manual.
If you have not read it, you should. And after you read it, apply it–yes, especially in North America. I highly recommend this work and reference it in my forthcoming book.
If you have read it and are using it, tell others about it. It is how they will come to benefit from it too.
———
Last Friday on Strike the Match, Dr. Bryan Galloway and I discussed the massive research underway to identify the unreached people groups in the 100 largest U. S. metro areas and 5 largest Canadian metro areas. Check out our conversation at iTunes or through RSS.
- April 30th, 2015
We have better information on unreached people groups living in the most remote places of the world than we do of those same groups living in the United States and Canada.
We know the world; we do not know our neighborhood.
I recently spoke with Dr. Bryan Galloway, Senior Research Analyst with the International Mission Board, about a research initiative underway to study the people groups in the 100 largest metropolitan areas in the United States and the 5 largest metropolitan areas in Canada.
The North American Mission Board and the International Mission Board have been collaborating to discover and engage the unreached peoples in North America. This is extremely important. As such knowledge increases, churches become more strategic and better stewards with their disciple making and church multiplication strategies and resources. As they reach the unreached here, opportunities develop for the gospel to spread in other areas of the world.
Check out our conversation in this episode of Strike the Match. Bryan and I discuss present realities in North America, practical ways to identify the peoples in our communities, and some of the challenges of this research initiative. He also shares a personal story of how reaching an unreached people group in Texas opened doors for disciples to be made in a restricted access country.
For more information on discovering and engaging unreached peoples in North America, this research initiative, or how to contact Dr. Galloway, check out peoplegroups.info.
Podcast: Play in new window | Download
- April 29th, 2015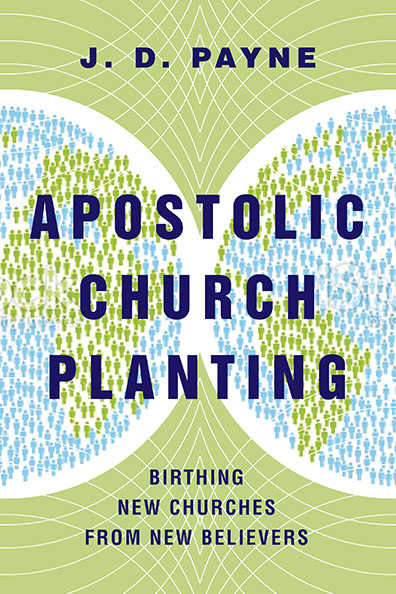 I wanted to give you an update on my book Apostolic Church Planting. As I shared in February, this work is scheduled to be released with InterVarsity Press in October or November. IVP is wanting to release it before Urbana, and I totally agree.
I received this rough draft of the cover today and wanted to share it with you. While I've suggested a small revision (removing "birthing" from the subtitle), I love the look and think they did an outstanding job.
Apostolic Church Planting is a brief theological, missiological, and practical book written to pastors, planters, churches, mission agencies, and networks to shift their thinking about church planting from expecting church planters to plant and pastor to expecting church planters to follow a Pauline approach. This means:
1) church planting becomes defined as evangelism that results in disciples made that results in churches planted
2) churches are planted from the harvest fields with 100% conversion growth, not with long-term Kingdom citizens (i.e., transfer growth)
3) priority is given to unreached people groups, especially in North America
4) a team works together moving through planned role changes, eventually raising up/equipping pastors for the newly planted church and phasing out to begin disciple making elsewhere
5) strategy and methods are to be thoroughly biblical, appropriately contextualized, and highly reproducible for multiplication
I am very excited about this unique work which builds from Discovering Church Planting and The Barnabas Factors. In it, I address both why and how, and answer many questions along the way.
Stay tuned. I plan to keep you updated.
———
This week on Strike the Match: I share a recent conversation with Dr. Bryan Galloway about the massive research underway to identify the unreached people groups in the 100 largest U. S. metro areas and 5 largest Canadian metro areas. Subscribe at iTunes or through RSS and you will not miss it!
- April 28th, 2015
I have never promoted an app on my blog. However, I now want to direct your attention to one.
We must be both students of God's Word and God's world. And one of the best ways to know what is going on in His world is to keep up with the news on a regular basis. I use an app for that.
As I eat my oatmeal or Honey Bunches of Oats each morning, I do two other things: 1) I have the local news on the television; and 2) I am searching thirty additional news sources.
Pulse is one of the most helpful apps I have on my iPhone. It allows me to access only the news sources I desire. In just a few minutes, I am able to scan the headlines of sources such as USA Today, CBC, CNN, NPR, BBC, The Economist, NY Times, AP, Fox, NBC, Al Jazeera, and Reuters to name a few. If I find a headline of interest, I can read the article, save it to read later, or email it to someone.
Pulse is user-friendly. It keeps everything on one screen for you. And it is free.
If you do not have an efficient system to help you consume a great deal of global news very quickly, then start with Pulse. I think you'll like it.
———
Check out last Friday's episode of Strike the Match, "Reality of Complexity, Power of the Ordinary, and 4 Billion to Go." Subscribe at iTunes or through RSS.
- April 27th, 2015
Kingdom citizens are called to love God with all of their minds (Matt 22:37). They are called to be people of understanding, for "the wise lay up knowledge" (Prov 10:14, ESV). Part of the stewardship that comes with Kingdom citizenship is that of thinking.
Thinking about God.
Thinking about His world.
Thinking about His mission in His world and our place in that mission.
And loving God with our minds and laying up knowledge should involve the thinking that comes from reading.
Those who think, read.
Whenever I go a while without extensive reading and thought, I can feel it. It is like the feeling that comes to people who have longstanding exercise routines interrupted for some extended period. They begin to have a strange internal omission, a stressor they are unable to put their fingers on until they hit their treadmills. Once they hit them, they feel an immediate relief and satisfaction. An ahhh moment.
If we are too busy to think, then we are too busy. And if we are too busy to read, then we are too busy.
Make sure to practice:
Regular reading. Read often. Not sporadically. Not when you "have" to. Make yourself develop this healthy practice.
Diverse reading. Read different authors, including those with whom you disagree. Read different genres (I don't like fiction. However, I just finished a novel two nights ago and went to the library today to get two more.).
Reflective reading. Read and think. Ask as you read:
What can I learn on the surface?
How should I think theologically and missiologically about what I am reading (especially with secular literature)? How can I make application to my life (what to take on, not do, change, believe, reject, etc., Ultimately, what would the Lord have me do with this?).
What can I learn from this author's writing style and organization of the contents of this book to apply to my writing style (Yes! You must write and tell today's stories later today.)
As a steward in the Kingdom, take advantage of the blessing of reading, access to literature, and ability to think critically for the sake of reaching the 4 billion.
———
Check out last Friday's episode of Strike the Match, "Reality of Complexity, Power of the Ordinary, and 4 Billion to Go." Subscribe at iTunes or through RSS.
- April 26th, 2015
Many tragic stories continue to come from Nepal. Saturday's earthquake killed more than 2,400 people and injured almost 6,000. Aftershocks continue.
Of the 31 million people who make up this country (not to mention other countries affected), 27 million are considered unreached with the gospel, including almost 4 million unengaged-unreached.
Here are a few prayer points that we have on our church's web site:
Pray that people will have access to basic needs like food, water, shelter, and medical care. Currently those affected by the earthquake are sleeping outside, water sources are compromised, and medical facilities overrun.
Pray that people still trapped in the rubble will quickly be found and survive.
Pray for the church in Nepal to immediately respond to needs in their communities in ways that allow them to share the gospel.
Pray for many in Nepal to turn to Christ in the midst of this crisis.
Pray for protection, provision, and boldness for our Brook Hills members and partners working in Nepal.
Here are some credible ministries to which you may want to give to assist with the relief efforts:
———
On last Friday's episode of Strike the Match, I discussed the challenges of a complex Church culture and the power of ordinary Spirit-filled people serving the 4 billion without Christ. Check it out, and subscribe at iTunes or through RSS.
- April 23rd, 2015
If the first century disciples approached disciple making and church planting with the complexity we have in the West, the gospel would have never left the Middle East.
We want reach the world with the extraordinary working through complexity. But what if the way to reach the nations is not through such means? What if in our Father's economy the primary way to accomplish the extraordinary is through the simple and ordinary?
In this episode of Strike the Match, I talk about these matters and that the complexity in the Kingdom is found in the King, not His commands. The extraordinary is found in the King, not His followers' intellect, leadership capacity, experience, degrees, or charisma.
The ordinary once turned the world upside down (Acts 17:6). The ordinary was responsible for the Word of the Lord going forth everywhere (1 Thes 1:8). Maybe we need to consider revising our understanding of what is necessary for the multiplication of healthy disciples, leaders, and churches. Check out this episode and let me know what you think.
———-
If you are not subscribed to this podcast, please do so either via RSS or iTunes. And I would greatly appreciate it if you posted ratings and comments at iTunes as well. If you like what you hear, please share with others. Thanks, guys!
Podcast: Play in new window | Download
- April 22nd, 2015
I recently spoke at the Empowered Conference hosted by the Southern Baptist Convention of Virginia. It was a wonderful time with the brothers and sisters from around the state. I was encouraged to hear what the Spirit is doing through their Kingdom labors. My assignment: share from my book Strangers Next Door.
The United States receives more international migrants than any other country. The United States is also home to the third largest number of unreached people groups in the world.
Here was my message to those present or watching via livestream.

You may download a copy of my presentation.
It was also an honor to hear from Jeff Iorg, President of Golden Gate Baptist Theological Seminary, and Ben Gutierrez, Vice Provost of Liberty University. Check out their messages and our panel discussion.
———
David Garrison was my guest on last Friday's episode of Strike the Match. Check out our conversation about the amazing work of the Spirit in the Muslim world and subscribe at iTunes or through RSS.