- February 1st, 2015
One of the temptations pastors face today is the belief that before their church can plant other churches, they need someone to send them church planters.  We often believe we can't move until someone gives us a handout.  Some of this belief is tied to the ethos of parachurch entitlement.  Some of it is tied to the belief that Jesus told us to wait for pastors before we plant churches.
I'm all for cooperation, but not an ecclesiological welfare system.  Is there a place for the outsider to come and assist us?  Absolutely.  Yes, that's biblical.  The problem arises whenever the church believes she can't carry out her Great Commission responsibilities unless someone else enables her to do so.
"But you will receive power when the Holy Spirit has come upon you, and you will be. . ." (Acts 1:8).  You and your church already have everything that is necessary for making of disciples from unreached people groups, gathering them together as local expressions of the Body of Christ, and leading them to appoint their own pastors.
We often fail to move because we do not believe we can move with only the Spirit.
We must have someone who can preach like our pastor.
We must have someone who can administrate a new church like our pastor.
We must have the extensive organizations and structures like what we presently have as a church.
We need. . . we need. . . .
Instead of trying to reproduce what we have and only look for the high-capacity leaders, ask:
What is needed to share the gospel with lost people?
What is needed to gather a few new believers around the Word to learn what it means to follow Jesus in covenant community?
Ecclesiastical complexity sucks out your potential for multiplication.  And the ecclesiological welfare system is complex.
If you have not downloaded your free copy of my ebook, Leading Your Church in Church Planting, you should–and share it with someone else considering the welfare system.
- January 29th, 2015
You want people who can travel without GPS.
You need people who can answer questions that Google can't answer (e.g., What do we do in this situation?). Remember, you can't Google your strategy.
You need a team that figures out what to do.  You don't want one that slavishly listens to you and obeys.
You need a jazz musician who can improvise. Don't settle for a classically trained one who only reads.
You need pushback (Overlords are only good at winning sprints anyway.).
Strategic thinking is greatly needed today.  As I have talked with denominational leaders over the years, this is a characteristic that is often listed as one of the must-haves for their teams.  Churches desire this in their pastors, but don't know to ask for it or how to look for it.  You are hard pressed to find a seminary that regularly talks about it or teaches it.  Strategy books for missions are few in number–I can name about five of them, maybe ten if we include pastoral ministry.  The men of Issachar had an understanding of the times and knew what Israel ought to do (1 Chr 12:32).  Their value should become our value.
Yes, you most definitely want people who know God's Word; but you also want those same people to know God's world.  You need strategic thinkers on your team. You need to be a strategic thinker.
What's your strategy to make this happen?
- January 28th, 2015
Marv Newell is an author and the Senior Vice President for MissioNexus.  I've known Marv for several years and always enjoy being with him. He is a sharp thinker and good friend.
Last month, he wrote a very good article that provided some guidelines on how North Americans should relate to Majority World believers when it comes to collaboration in missions.  Check out his full post: "Relating Better to Majority World Missions".
While I am still in favor of the understanding and terminology of "partners," here are his six cautions when connecting with those from outside of North America:
We dare not be offended when criticized by the leaders who represent this movement.
We dare not be condescending.
We dare not put them on a pedestal.
We dare not misunderstand the new relationship that has been a progression and continues to evolve.
We dare not call them by the wrong name.
We dare not be simply a "willing participant," but rather must be a "worthy participant."
As churches in the West continue to connect with brothers and sisters across the world, challenges will arise.  The growth of the Majority World Church is both a wonderful blessing and a tremendous pressure point on the Church.
In addition to Marv's six (and using his terminology), I would add two more:
1) We dare not neglect to go and make disciples of all nations if Majority World believers do not partner with us.
2) We dare not take a hands-off approach, neglecting God-given centuries of wisdom and experience, when partnering with Majority World believers.
What would you add?
- January 27th, 2015
If I am not having a bowl of oatmeal (with brown sugar and raisins) for breakfast, then I am eating a bowl of Honey Bunches of Oats.  This has been my pattern for several years.
While I will eat almost anything, I am picky when it comes to cereal. Corn Flakes gets too soggy. Grape Nuts or plain granola doesn't work either. Though I used to enjoy the Oreo cereal, I felt like I needed something that was a better source of whole grain, low in fat, and sweet (and be a good example to my children, too).
Vernon J. Herzing made breakfast special for me. He also did it in a way that I do not get burned out on it either (imaging eating the same thing for lunch or dinner for years).
Herzing worked for Post Foods. He wanted to create something new from what already existed.  While in his kitchen with his daughter, he weighed and mixed different Post cereals together to get what they liked.  He took the product to one or two others in the company who contributed to it as well.  Now, I have Honey Bunches of Oats.
The creation of something new rarely comes ex nihilo.  However, we often think novelty always happens this way.  As wise Kingdom stewards, we need to see necessary possibilities for on-going church health and mission.  Great leaders take what is and move toward something new as the Spirit leads. They mix this with that.  They pray and fast.  They collaborate with others in thought and action.  They pray and fast some more.  They do not operate alone.  They do not create something from nothing.
Nehemiah was a man moved by a report of a contemporary reality.  He saw the vision, sought God, brought together many people, and built a wall.  The good hand of God was upon him to work out His salvation-history (Neh 2:8).
What needs to change in your life and ministry?  With whom are you discussing this matter?  Are you praying and fasting?  What are you combining to lead others into the new and necessary direction?
Don't create a new cereal. Bring together your present blessings.
- January 26th, 2015
There is a law of diminishing returns. It is a law of this world.  It is not of the Kingdom. Too many leaders are paralyzed by it and don't know it.
There comes a time when the amount of effort and energy put into what you are trying to accomplish is not worth the change in the outcome.
The change in the impact of the result is only minutely affected by the large quantity of extra invested effort.  Yet, we believe if we can put in more, it will be a better paper, sermon, worship service, outreach event, or Bible study.  We end up wasting time and energy that could be wisely invested elsewhere. Such is not the way of the wise Kingdom steward (Luke 19:11-26).
This law causes us to ask for ten additional minutes.  Such a request lessens our leadership abilities to make confident decisions and move forward.  There comes a time when we must act.
Too many people today are afraid of beginning that blog, writing that book, engaging that unreached people group, starting that new ministry, helping that neighbor, or extending that marriage proposal.
I'm just not ready.  Why not?
More time and investment are needed.  How much additional time and investment do you need?
I don't know. Give me some more time to think about this question, then I'll let you know how much additional time and investment are needed to answer your first question.
A captive to the law of diminishing returns.  Striving for more, but getting little.
As a seminary professor on graduation day, I would often ask newly minted graduates where they were going to pastor or serve in the world. And several times I would hear, "Well, I don't know. I'm just not ready yet."

The truth is they had 99.5% more Bible knowledge and 90.27% more teaching and leadership experience than most church members.
They followed the law of diminishing returns. They bought into the lie of just a little more knowledge, investment, and experience is necessary (No wonder we don't have enough chairs at the church planting table.).
Are you following the law of diminishing returns? If so, break the law.  You've invested enough, now act.   Jesus has set us free from the shackles of sin–and the hindrances of this world's system.  We should be making wise decisions and realizing there comes a time to move.
To invest more is to act in a manner contrary to the Kingdom Ethic.
- January 25th, 2015
We have better information on an unreached people group living in the Himalayas than we do on that same group living in your North American city.  This is one of the reasons I wrote Strangers Next Door: Immigration, Migration, and Mission.  More and better research is needed.
Research done by Global Research, Joshua Project, and the World Christian Database has provided the Church with excellent information on people groups across the countries of the world.  The only two exceptions are the United States and Canada.
The governments of these two countries know nationalities represented within their borders, but not people groups.  For example, the U. S. government can tell us how many people from Afghanistan live in the United States.  However, Afghanistan is comprised of 39 people groups.  We have no public information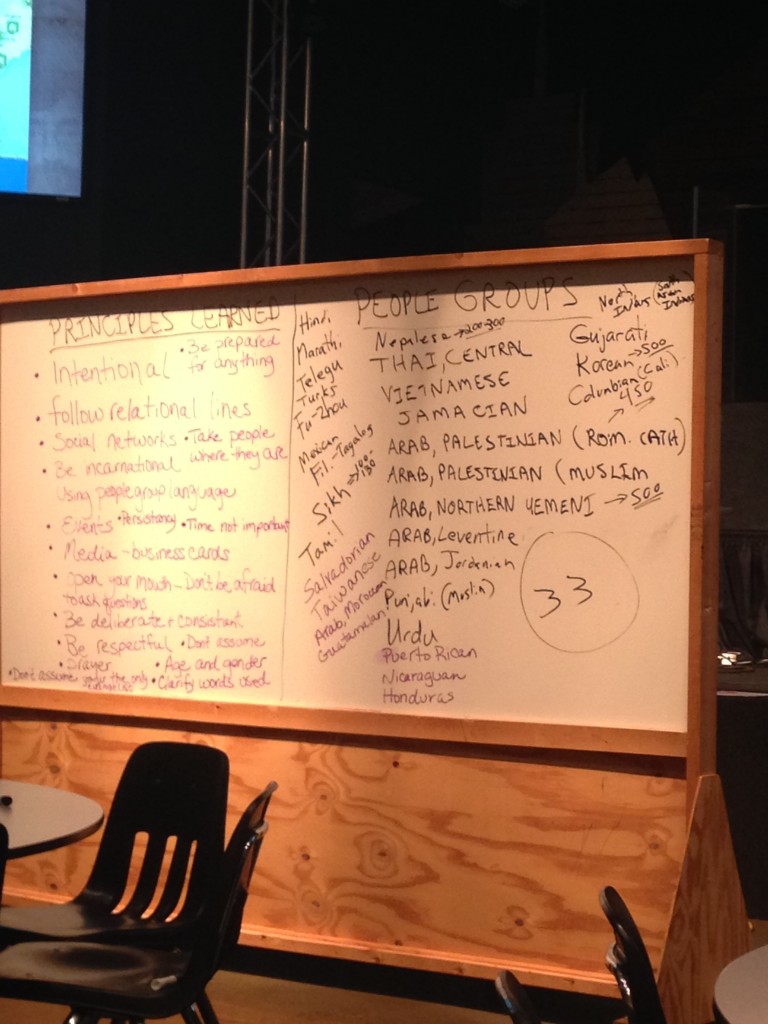 on which of these 39 groups are represented in this country.  Such information is extremely important for strategy development.  Just as all U. S. citizens are not the same, much variation can be found among the 39 people groups of Afghanistan.
PeopleGroups.info is making an attempt to identify who is living in the 100 largest U. S. metro areas and 5 largest Canadian metro areas.  Part of their approach is training people to conduct their own research in their communities.  If people in their locales do not make an effort to study their communities, then it is unlikely that we will ever know who is living among us.
There are four more Discover and Engagement workshops scheduled for 2015.  According to their site, they are open to scheduling workshops as well.
We hosted one of these events last year for The Church at Brook Hills.  I strongly urge you to be a part of one of these training sessions this year, or bring one to your area.  It has changed our local church planting strategy and how we think about reaching the nations.
On the Saturday afternoon of the workshop, 40 of our members (with no background in field research) scattered across Birmingham (pop. 1.5 million) for only four hours.  The result was that we encountered 34 different nationalities–with most of these representing unreached peoples (and most of these unreached were unengaged in Birmingham).  This photo shows our whiteboard results.
Since this time, we have organized eight church planting teams for our city to focus on unreached people groups.  They are beginning their Kingdom efforts this year.
The Spirit can lead us with information we do not have (see much of Acts).  However, God has often worked in powerful ways to move His people when they receive a report from the field (Nehemiah 1-2).
There are many conferences and training events you and your people can attend in 2015. If you can only select one, this is the one you should select.  It will open eyes in ways that words alone cannot.
- January 22nd, 2015
Missiologically Thinking turns five years old this month. I remember where I was sitting when the first post went live and my first tweet was sent announcing it.
I was a podcaster before I was a blogger.  From 2006-2010, I did a podcast at my resource site NorthAmericanMissions.org. This site is no longer public.
I considered blogging in 2006 but thought that (and especially Twitter) was only for the narcissistic person who wanted to share what he was eating for dinner, the color of his socks, or how hot his wife was at the moment. Blogging was not for me, but I had a vision for podcasting which lasted 4 years.
Gradually, my thoughts changed. I started blogging and using Twitter at the same time in 2010, feeling limited at what my resource site could offer. Eventually, both my resource site and podcast became consumed by Missiologically Thinking.
I am very thankful for you and for everyone who comes to (or subscribes to) this blog.  I consider those who read my blog like honored guests who come to my house.  I am truly blessed with each visit.  You could have been somewhere else, doing something else.  However, you took time out of your busy schedule to give me a few minutes of your time today–time more valuable than gold.  I consider this to be something wonderful and say thank you for your blessing.
Thank you for sharing this site with those in your circles of influence.  Your endorsement of my work is of much value to me.  When you give this site away to others, you are also extending to me an incredible gift as well.  You are allowing me into your inner circle with your recommendation.
I love blogging.  Lord willing, I plan to continue posting frequently here at jdpayne.org and giving away as much as I can.  Stay tuned.
Now, I want to share something else with you. The notion of returning to the mic and podcasting has been on my mind. This is a matter that I've committed to prayer.
Part of being a wise Kingdom steward involves making right decisions regarding the use of time and energy. I do not believe in doing something just to do it. If that something wisely meets a need in the Kingdom, then I want to consider it. If my podcasting (and blogging) efforts will be used by others for their leadership development and gospel advancement, then I want to consider spending some energy in this area. If others out there are doing as good of a job, or better, then there is no reason for me to turn on the mic.
As of now, I think there might be a need for what I have in mind.
Please pray for me. Share your comments below or shoot me a message with your thoughts about me returning to the podcasting realm to talk about mission, innovation, and leadership.  My personal email address is jpayne@brookhills.org or find me on Twitter @jd_payne .  There's also Facebook (I'm a terrible FB friend.). I look forward to hearing from you!
- January 21st, 2015
"In fact, if you look at the entirety of the twentieth century, the most important developments in mass, one-to-many communications clock in at the same social innovation rate with an eerie regularity. Call it the 10/10 rule: a decade to build the new platform, and a decade for it to find a mass audience."
These words come from Steven Johnson's Where Good Ideas Come From.  Be it AM radio, Betamax, cell phones, personal computers, or GPS, the average time span (last century) from idea to market was 20 years.  This rule was challenged in the late twentieth century once the web became mainstream. For example, YouTube crushed the 10/10.
10 years to build; 10 years to sell.
The world refuses to go back. Twenty years is a lot of time. She learned her lesson. Only the fool would follow the 10/10 rule if a new rule governs the new marketplace.
The world's learning shames the Church when it comes to Her mission.  Yes, there is still the top secret, covert business operations alive and well in the world.  However, the world is quickly learning the value of collaboration, trust, and sharing.  I don't think the Church is there yet.  We love our turf.
Some of us are motivated by:
personal claim to fame
fear of failure
fear of what others will think
The result? We live like the R&D and marketing departments of last century.  We do not share our ideas with others when it comes to gospel advancement.  We fear they will steal them, laugh at us, call us stupid, or think we're crazy.  We live like we are trying to develop a better hamburger than our competitors.
We try new things in a corner, sit on the findings, tweak them, try again, and sit some more until it is just right to our satisfaction.  We're okay with the 10/10 rule.  It is safe.  It is comfortable.  We accomplish the task today and fifteen years later publish the story.
Such is not wise Kingdom stewardship.
We don't have time for 10/10 to govern our efforts.  Tell today's stories, later today.
Share with us what is working now.  We need to know; we may try it too.
Share with us what is not working now.  We may have something to share with you to overcome your barrier.
There are 4 billion people in the world without Jesus–6,800 unreached people groups (including 360 in the United States, 180 in Canada).
There is no time to follow the 10/10 rule.  There is no time for desires of grandeur, obtaining recognition, fear of man, or receiving the title of being the one who produced the better hamburger than all other churches combined.
Kill the rule.
- January 20th, 2015
A desire for recognition is not a bad thing.  We all find encouragement when recognized for an accomplishment. Paul knew this. Just read Romans 16.  He often gave shout-outs on behalf of others.
However, such desire can move from the realm of the healthy into the realm of darkness.  We begin to seek recognition for self-exaltation. Pride drives our desire.  Me first! Me first! Look at me! Look at what I'm doing!
It is not good when the Kingdom is about me.
I read an article from Time with the headline, "The Guy Who Plays Chewbacca in Star Wars has been Hospitalized for Pneumonia."
While I'm thankful he is expected to make a full recovery, I could not help but wonder about the wording of the headline.
Why not, "Peter Mayhew has been Hospitalized for Pneumonia"?
If I told you about Peter Mayhew, would you have known his claim to fame? Of course not (for most of you).
Now, Chewbacca on the other hand….
I'm guessing since the 70s Mayhew has lived with being known only as the guy who played Chewbacca.  I'm also guessing that such has not been a problem.
He starred in a blockbuster trilogy that made history and broke records on numerous levels.
He became wealthy.
Toys were made in his character's image.
Chewy will always be an icon.
Star Wars was so much bigger than one person.  Mayhew knew this.
We live in the age of Me–the star.  The star teacher.  The star physician.  The star chef.  The star mechanic. And yes, the star minister.
While Kingdom history is filled with known names such as Abraham, Moses, Joshua, David, John, and Peter, it is filled with even more unknown names.
We only know them as:
the unknowns who planted the Antioch Church (Acts 11:20-21)
the unknowns who wandered in deserts and caves (Heb 11:38)
the unknowns who rest under the altar since their martyrdom (Rev 6:9-11)
Just a bunch of unknown people.  A bunch of guys who are unknowns to us, but great in the Kingdom.
Are you okay if no one knows your name, but only your service?
The guy who…taught that class.
The gal who…led that group.
The guy who…pastored that church.
The gal who…served that people group.
If we are unworthy servants (Luke 17:10), then we should not be troubled if no one knows our names.  It's His Kingdom.  We should be satisfied and thankful with being the guy who played Chewbacca.  Though others may not know us, He knows our names and wrote them in His book before the foundation of the world (Rev 13:8).
He wrote down our names.
He did not write down, "The guy who…" or "The gal that…"
He wrote down our names. Why can't this be enough for us?
- January 19th, 2015
This past weekend I had the delightful experience of spending time in Portland with some amazing brothers and sisters.  I was asked to lead the annual Leadership Connexion and speak that evening at Mission Connexion 2015.
I never would have guessed that 100 church and agency leaders would sit through a 6 hour leadership training and 1000 people would show up on a rainy Friday night for a missions conference in the Pacific Northwest–in Portlandia of all places! Totally weird, in an amazingly good way!
The Lord is doing some amazing things in a corner of our country that few of us probably know about.
If you are in this region and are not connected to Mission Connexion, you should check them out.  In addition to numerous things they do throughout the year, they also host this annual event with four plenary sessions and 120 workshops.
If you are part of a mission agency and did not show up this year, then you missed a wonderful opportunity to connect with others.  I'm estimating 80 organizations had displays set up at this event.  The display hall was a who's who of agencies with headquarters in North America. Definitely catch them next year.
I thought I would share a few fun pics with you in this post and fulfill a promise to the Leadership Connexion participants.
Yes, this is the carpet in the airport. Did you catch last week's tweet, or this article?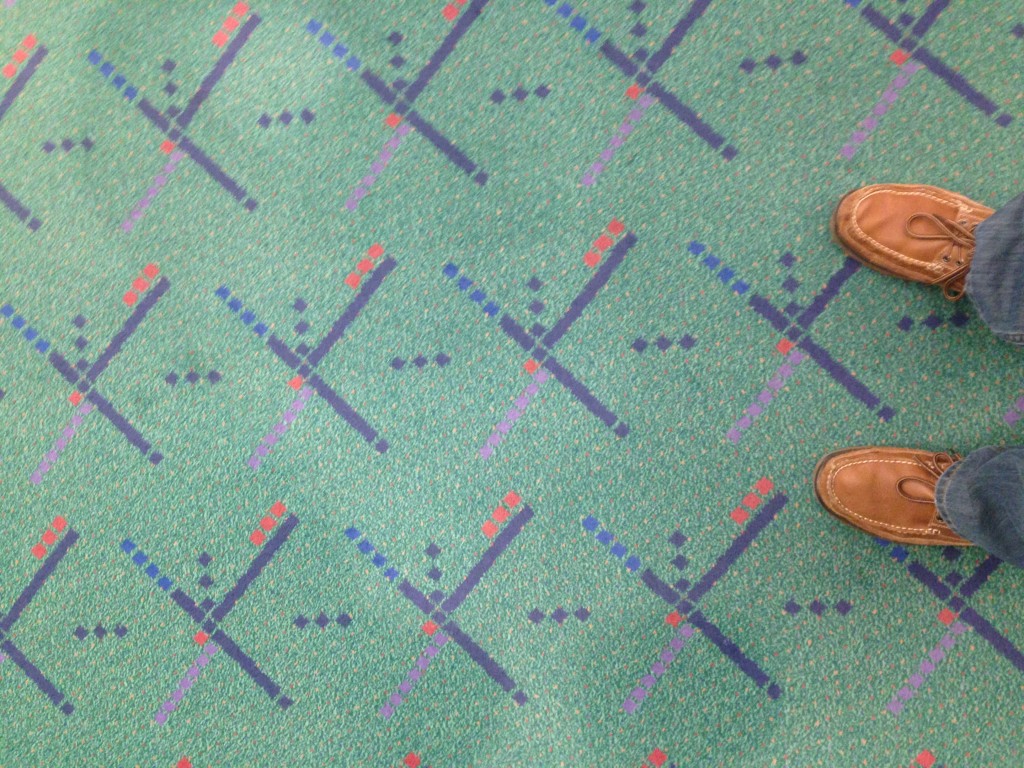 So, in Birmingham, my favorite doughnut shop is Heavenly Doughnuts. I found out that Portland has Voodoo Doughnuts. #notintheBiblebelt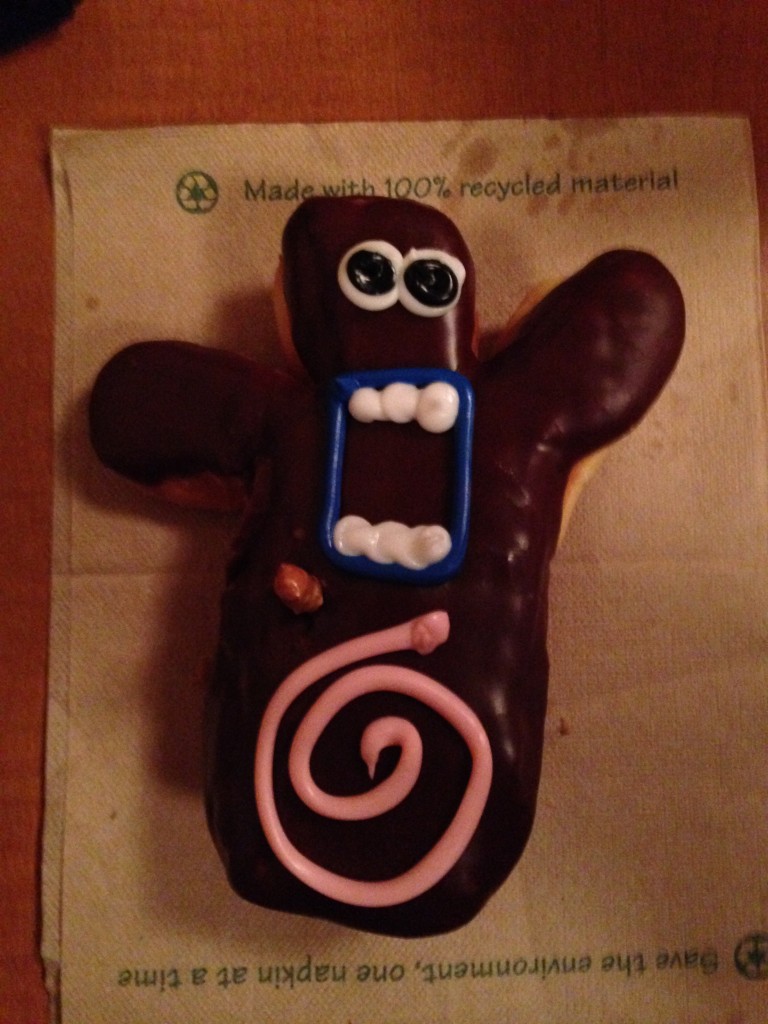 Here is a shot of my gracious host, Greg Strannigan, speaking at the Leadership Connexion Training.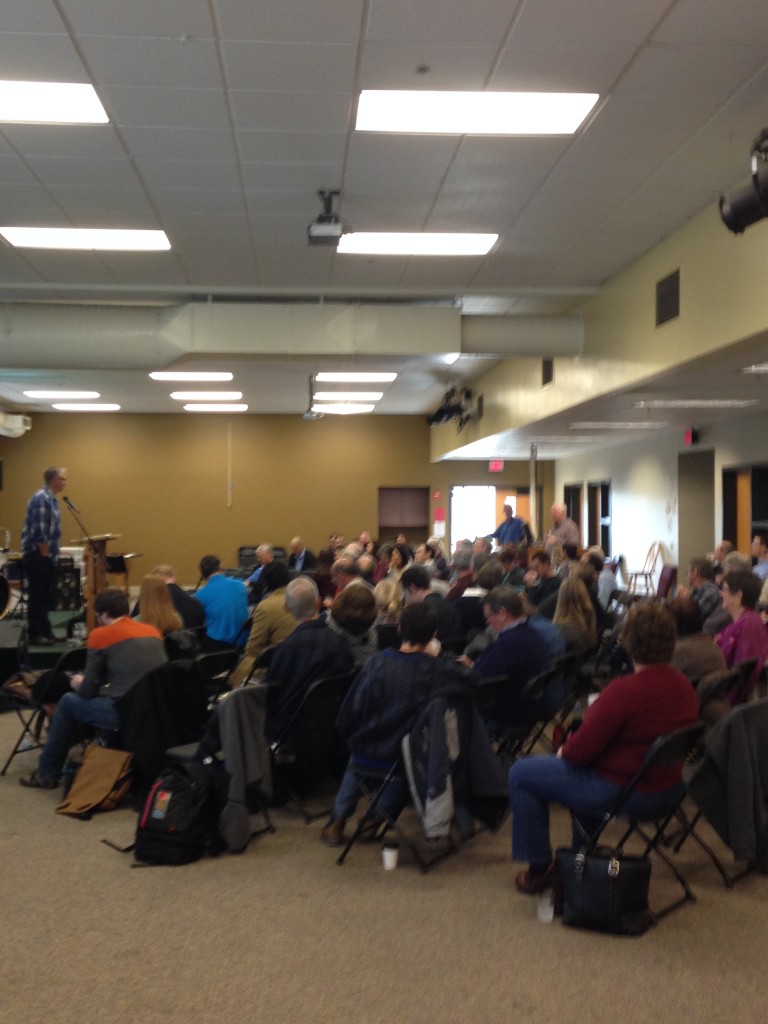 Below is founder and Executive Director of Mission Connexion, Bill MacLeod, kicking off Mission Connexion 2015. He's reading a passage, not checking his email.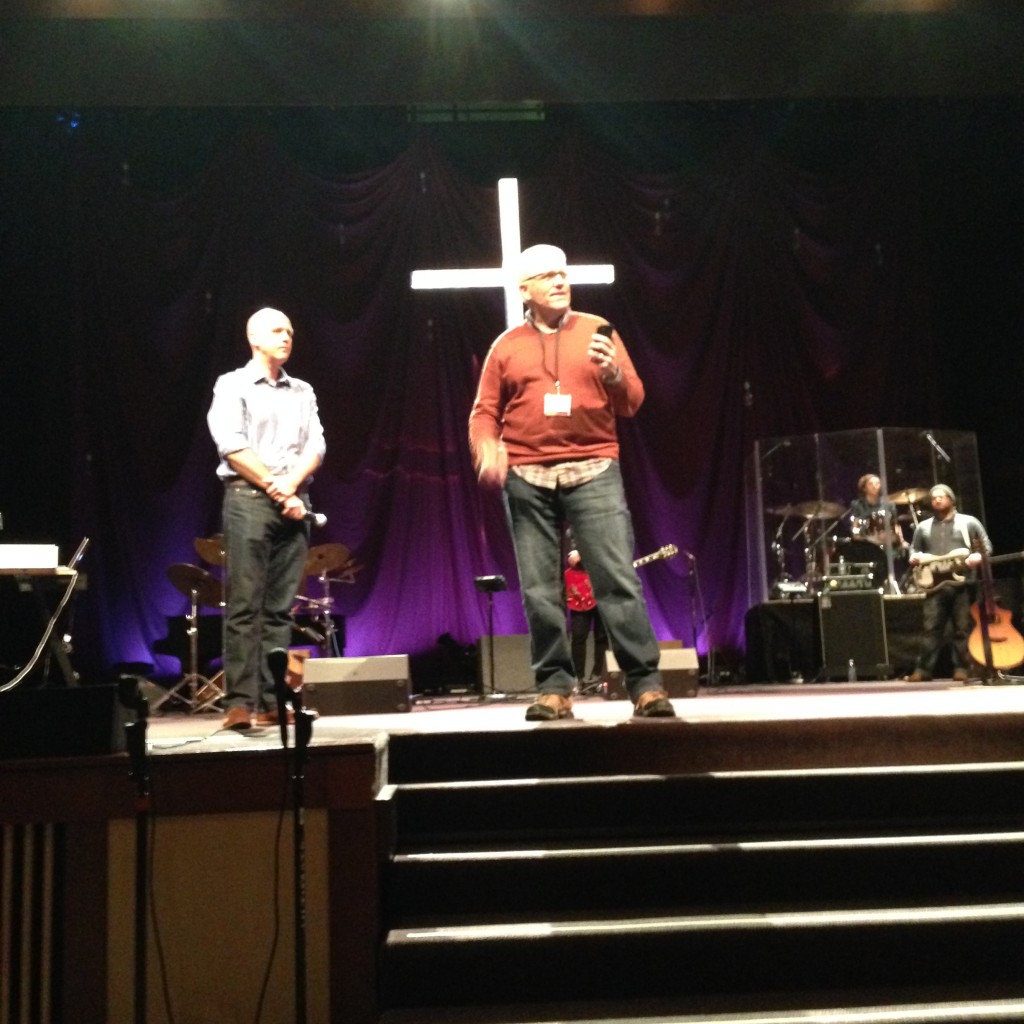 This is Don and Carol Richardson.  Don was also one of the speakers this year.  He served in Irian Jaya (Papua New Guinea) and wrote Peace Child and produced a movie by the same title. This was taken in a room with poor lighting. I promise I was not trying to put a halo over his head with the light on the wall.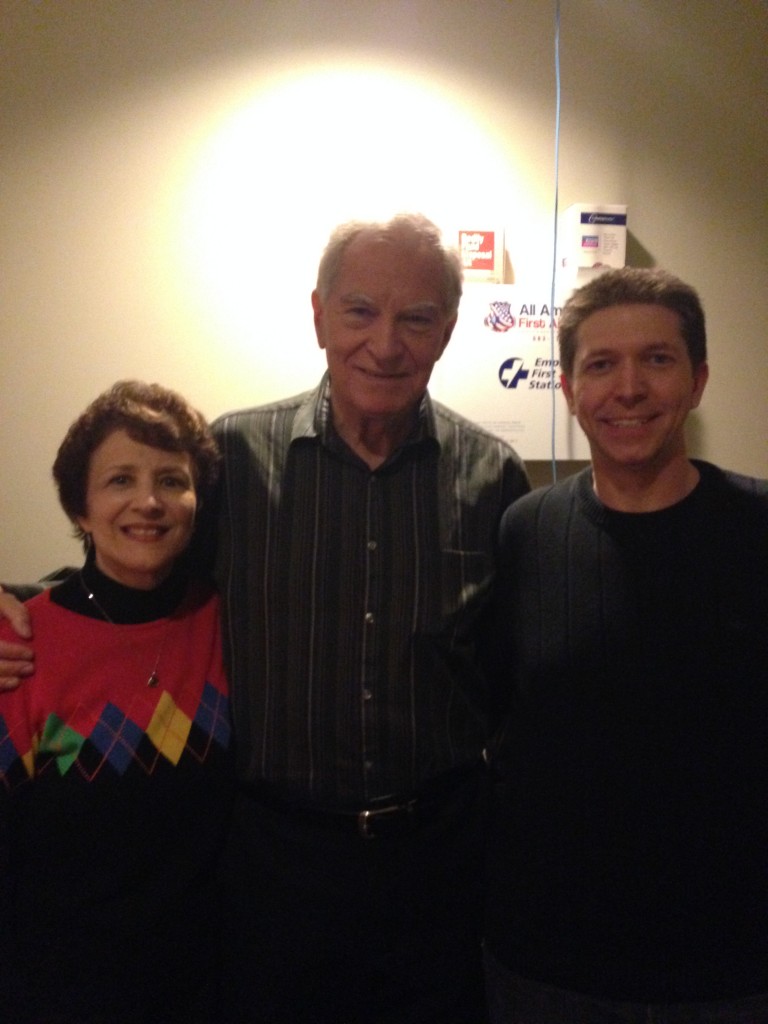 On a serious note, I promised those attending the leadership training that I would post my slide presentation.
Here it is.  Thank you, brothers and sisters, for your participation and interaction.  It was an honor to be with you.  May the Lord continue to use you in the advancement of the Kingdom!
Guys, if the slogan about keeping Portland weird means standing for Christ in a region of lostness as you did this weekend, then keep it weird!