- November 12th, 2014
Thought of the day:
The country is home to a large concentration of evangelicals.
The country is home to the third largest number of unreached people groups, behind India and China.
Most church planting in the country is among reached people groups.
At 26% evangelical, with a conservative estimate of 360 unreached people groups, the thought of the day belongs to the United States.
- November 6th, 2014
We come to the last post in this series. If you missed any of the previous posts, you may find them linked below:
While I will likely share updates in the future, I want to conclude with a new initiative that is just out of the starting gate. This is our Church-to-Church (pilot) Partnership.
This year marks my 20th year in vocational ministry. For most men in Baptist (as well as other) traditions, the process of moving from not pastoring a church to pastoring a church is a cold process awash with many unknowns.  It typically involves a pastor search committee receiving a résumé (from a second party, not the man himself), considering that résumé, inviting him for an interview, inviting him to preach a sermon or two ("in view of a call"), having a church-wide vote, and extending the call to him.  While the Lord works through this process (I know. I've been through it twice.), I believe there is a more excellent way.
This way involves sister churches working closely together. It includes pastors (and their churches) taking ownership and responsibility for knowing, equipping, and sending members from their churches to serve other churches–and mentoring those men after they begin their pastoral labors.
Considering the commonplace paradigm, most churches know very little about the man and his family (so, they rule out knowing most of the 1 Tim 3 and Titus 1 requirements). Yes, they may call his references–but that is an incredibly biased list. The man and his family know very little about the church. Yes, he may have spoken with the previous pastor, interviewed some of the members or staff (if any), and looked at the membership profile, doctrinal statement, and other information on the web site (unless the site is little more than a bulletin board with service times and address).  At the end of the day, two significant parties come together to do the most important labors in the world–and know very little about one another. The church needs to know (and experience) the man's life and doctrine, ministry philosophy, and core convictions. They need to understand the DNA that he is bringing to the relationship. The man and his family need to know (and experience) the church's heritage, culture, convictions, and the members.
The Church-to-Church Partnership is an attempt to bring a man (and his family) and a local church together for a time of courtship. During this period they walk with one another, minister with one another, and examine one another, as they pray and fast for the Spirit's guidance. After this time, all the parties involved, then decide whether or not they should move forward together to make a marriage happen.
We are piloting this partnership in our local association in Birmingham.
The process involves five steps: 1) Conversation. During this time, our leadership meets with representatives of the church's search committee to talk and pray about a partnership. 2) Cooperation. In the second phase of the partnership, we cooperate with the church to understand the church's culture and needs while the church cooperates with us to get to know one of our potential candidates. During this phase we prayerfully work together to attempt to locate a prospective candidate from among our members. 3) Confirmation. During this time, the search committee and church need to get to know the potential pastoral candidate through prayer, doing ministry together, meetings, discussions, and examining his life and doctrine/preaching over an agreed upon designated period of time (e.g., one or two months). 4) Calling. If the search committee desires to recommend the potential candidate to their church, then the church prayerfully decides if the Lord is leading them to extend a call to the candidate. 5) Coaching. Once the church calls our member to serve as pastor, we believe the partnership does not come to an end. Our leadership with The Church at Brook Hills desires to continue to be in relationship with this brother to provide on-going coaching and professional ministry training for a determined season of time (e.g., 12 months).
We do not provide any money in this process. We do not provide a salary/stipend for another church's pastor. Churches are to be self-supporting, with many churches supporting bi-vocational pastors.
This partnership is not our approach to merging with another sister church. It is not an approach to begin a Brook Hills campus/site. It is not an approach to purchase another church's property. Sister churches are fully-autonomous, local churches in cooperation with one another.
This is not church planting, re-planting, or related to church planting. It is about a local church calling one of our members as their pastor.
This is not about our church telling another church what to do. We may be a church of 4500 people, but a sister church of 12 people is just as much a New Testament church as we are. While we equip our members and help facilitate the connection and process, she determines the pace as well as the outcome. She has just as much of the Holy Spirit as we do; she must make her own decisions regarding who will and will not be her pastor.
I hope this series has been of some help to you and your church, denomination, agency, or network. As I mentioned in the first post, don't fear sharing your stories–even if you don't have all the challenges worked out.  If you are only three months into a new initiative, then you have three months worth of wisdom to share (even if things are not gong as desired) with the rest of us.  As Kingdom citizens, we are not leading a top secret R&D department attempting to create the next best mobile device. We are a family in Kingdom business. Don't sit on what the Spirit entrusts to your care. Be a Kingdom steward–share today's stories later today. Be generous. The open source concept allows others to take what has been entrusted to you, mix it with what has been entrusted to them, and share it with others for the multiplication of disciples, leaders, and churches.  Don't keep secrets. The 4 billion remain.
(image credit: Microsoft Office)
- October 29th, 2014
In this fourth post of the series, I want to share our equipping beyond the Brook Hills 7 (BH7) related to church planting teams and pastors. If you have not read the previous posts in order, it would be helpful to do so to understand the context:
Share Today's Stories Later Today
Why We Do What We Do the Way We Do It
An Engine for Developing World-Impacting Disciple Makers
We pray and work diligently to raise up church planting teams and pastors from within our membership.  While there is absolutely nothing wrong with partnering with those outside of one's church (and we do a great deal of such partnerships in other countries), we believe that equipping and sending our members is the most healthy model for our church; it is biblical, creates a culture of expectation, requires church ownership, and allows for pastoral (and church) accountability with those whom we send to other locations in Birmingham and across the United States.
When members of our faith family say they believe they should serve on a church planting team or serve as an elder–either within the church or to serve another church–we provide additional equipping beyond the BH7. Our church planting and pastoral training is about 12-15 months in length, with a great deal of hands-on training in Birmingham. The figure below displays what is provided in either our church planting track or pastor track. Just as we aggressively evaluate the BH7, we also are making necessary on-going adjustments to our approach beyond the BH7.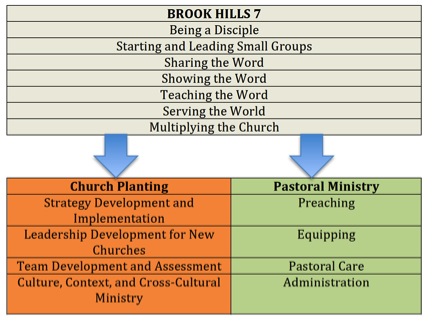 We believe there are biblical, missiological, and practical distinctions between church planters (i.e., missionaries) and pastors–no matter where they serve in the world. Our expectation is that our church planting teams are to make disciples, plant a church, appoint/equip pastors, and repeat the process (see previous post–and my writings on church planting). We are not training church planters to pastor churches.  Whether we are in Birmingham, across North America, or throughout the world, we allow the biblical paradigm of church planting to provide both a definition and direction for us. Our church planting training is designed to make disciples and plant churches from unreached (and unengaged) people groups–wherever they are found.
An exception for us is when someone says he wants to plant a church and pastor that church (Yes, I know this is the opposite of most church planting thinking in North America–and certain parts of the world.). While we do not forbid such practice (pastoral calling is a wonderful thing), we put the member into our pastoral ministry track and equip him as a pastor (not as an apostolic-type missionary). We then try to find long-term Kingdom citizens whom he can pastor as a new church.  We believe most church planting pastors need an instant church to serve (from the beginning of the planting endeavor) and to shepherd for local and global disciple making.
Much of our pastoral equipping is devoted to church revitalization.  In the U. S., for every 10 men we send from our church to pastor an established church, 9 of them will be overseeing congregations that are in need of revitalization.
I recognize there are a multitude of definitions for what constitutes church revitalization.  For us, church revitalization is not:
church planting
merging a local church with The Church at Brook Hills
buying another church's property
paying a man's salary (from our church) to pastor another church
developing a Brook Hills' campus, or site.
While I plan to share more about our church revitalization process in the next post, revitalization is more about helping create a healthy marriage between a sister church in need and a man who has our church's DNA–though we are not trying to clone our church, or make another church in our image.
- October 20th, 2014
This is the third post in my series about The Church at Brook Hills' approach to church planting and church revitalization. You may find the other posts HERE and HERE. In this post, I want to share about our Institute for Disciple Making (IDM).
IDM exists to equip every member of our faith family (Yes, you have to be a church member to participate–for much of what we do is through our small groups and requires pastoral accountability.) to glorify God by making disciples of all nations. We desire to see world-impacting disciple makers serving the Lord by multiplying disciples, leaders, small groups, and churches among the unreached peoples in Birmingham, across North America, and throughout the world. Equipping through IDM is theological, but the emphasis is on the practical (note the use of participles in the titles of the Brook Hills 7 training modules below). Such training is not simply about gaining more knowledge, but applying what we learn to the real world.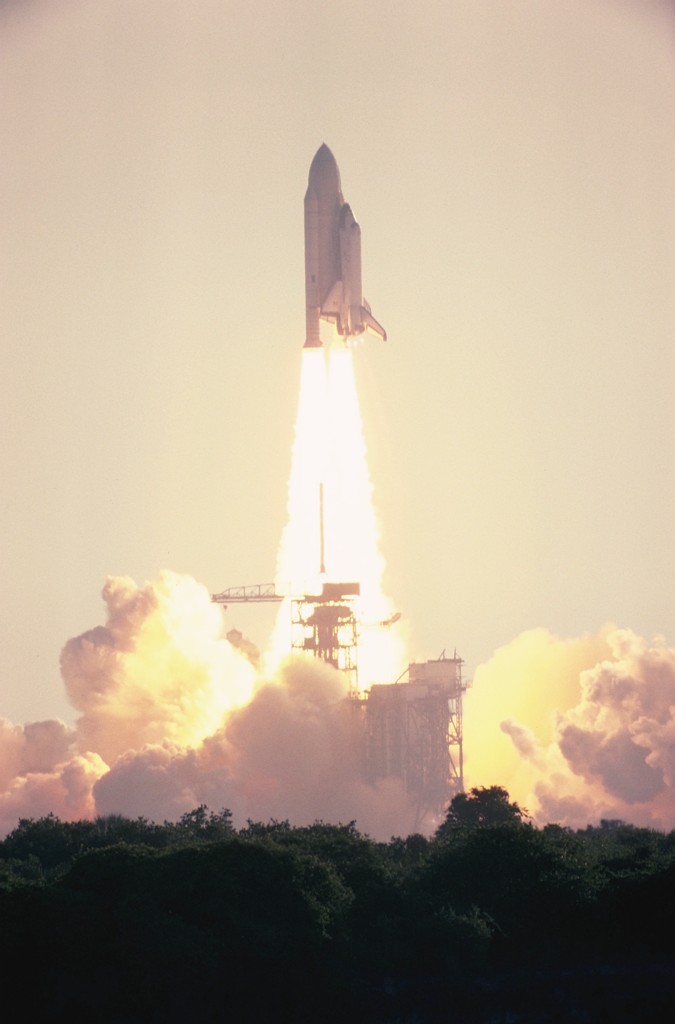 IDM is not a seminary experience. We are not attempting to recreate a seminary classroom for our people. In a time when many churches believe this is the best way to equip all of their people, we think otherwise (Please note, we are not against seminary education. We have partnerships with two seminaries. And three of us pastors also teach as seminary professors, either full-time or adjunctively. There is a place for this form of equipping, but it is for the minority–not the majority–in the Body of Christ.). We promote IDM for stay-at-home moms as well as Bank CEOs.
When it comes to disciple making, our biblical conviction is that disciples are made from the harvest fields.  When it comes to church planting, our biblical conviction is that biblical church planting is evangelism (not transfer growth) that results in new churches (Acts 13-14). Visually, this path looks like:
Evangelism -> Disciples Made -> Small Group Started -> Church Identified -> Pastors Appointed
If you are attempting to lead your church to be world-impacting disciples who are laboring for the multiplication of disciples, leaders, and churches, then you need a practical means to build upon your convictions.  In addition to the equipping that comes from our corporate worship gatherings, small groups, and personal devotion time, we place particular emphasis on what we call The Brook Hills 7 (BH7). The BH7 is a collection of training modules designed to equip all (Yes, all) of our members to plant churches from the harvest, following the path noted above.  For us, church planting is not a complex thing, but simple and highly reproducible (see previous post on convictions).
We are working to create a culture where all of our members may say: "I can be a church planter." or "I can help someone in my small group go and serve as a church planter." We recognize not all of our members are called to be church planters, but we want everyone to understand it and how they can fit it to this Great Commission task.
Read the descriptions below of the BH7 and you should be able to see how each training fits into the path above. The following is from a document we share with our members:
Being a Disciple: Whether you have been a disciple for many years or just a few days, this training provides you with a healthy understanding of the basic principles of personal spiritual growth and discipleship development.
Serving the World: This training addresses the practice of theology and mission in order to make disciples of all nations across the street, country, or world.
Multiplying the Church: This training assists you in understanding the whats, whys, and hows of disciple-making that results in new churches.
Sharing the Word: Learn how to better share your faith with others, whether that is across the backyard fence, across the hall, or across the world.
Showing the Word: This training addresses how we are to show the Word to others through member care for one another.
Starting and Leading Small Groups: Learn why we do small groups at Brook Hills. Discover the common foundations and explore various practical aspects of small group ministry.
Teaching the Word: This training teaches principles of Bible interpretation and application to life situations, including how to teach in a small group setting.
We encourage every member of our faith family to consider participating in each of these foundational courses that are both grounded in God's word and practical in nature.
Whether you feel led to serve the Lord among an unreached people group in the United States or another country, called to pastoral ministry, are a small group leader looking for additional training, or desiring to be better prepared to reach people in your neighborhood, the Brook Hills 7 is the place to begin.
Each training usually lasts 6 weeks, meeting a couple of hours one night per week. The BH7 is designed for the person working a 40 hour per week job. There is a little reading involved, a commitment to be present and to participate in the practical activities. Members of our pastoral staff team teach the BH7. For the teaching philosophy underlying our training, see my post, "Give Your People Vowels of Service."
In my next post, I plan to share about our equipping beyond the BH7 for our church planting teams and pastors. I hope this is helpful to you. Take these ideas and run with them, revise them for your context, but make sure you share with others.
(Image credit: Microsoft Office)
- October 7th, 2014
In this second post of this series, I want to share with you the foundational issues for our church's planting and revitalization efforts.  Listed below are matters we regularly preach, teach, and talk about among our leaders and our members.  Without understanding these foundational issues, it is difficult to understand the practical components (to be addressed in the next posts).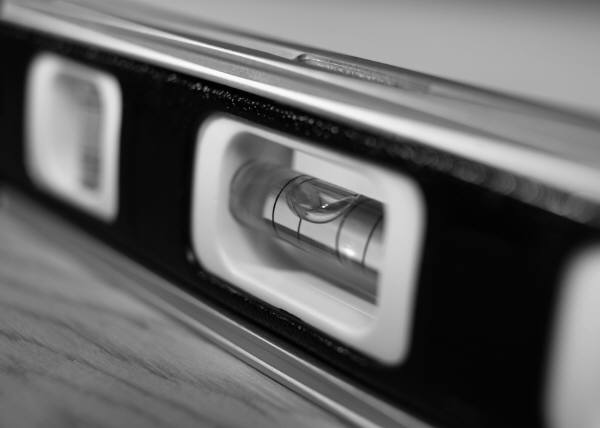 Our vision, mission, and goal: We glorify God by making disciples of all nations.
We desire for our members to be world-impacting disciple makers.
Our four primary facets of disciple making are: 1) Sharing the Word; 2) Showing the Word; 3) Teaching the Word; and 4) Serving the World.
We equip our people to be involved in multiplying disciples and multiplying churches: 1) in Birmingham; 2) across North America; and 3) throughout the world.
Our values are: 1) biblical proclamation; 2) sacrificial care; 3) wholehearted worship; 4) desperate prayer; and 5) exponential multiplication.
Our strategy for equipping world-impacting disciple makers to make disciples of all nations (in Birmingham, across North America, throughout the world) is to be: 1) biblical; 2) simple; 3) intentional; 4) reproducible; 5) cross-cultural; and 6) radical.
We want all of our church planting efforts and church revitalization efforts (two completely different ministries) to be aligned with the plans that God has already promised to bless.  We don't develop plans and methods and then ask God to bless them.
We want all of our planting and revitalization efforts to be as simple as possible so those efforts are more likely to be reproduced by others (both long-term Kingdom citizens as well as recent Kingdom citizens).  With 4 billion lost people in the world–including over 2 billion who have never heard of Jesus–we must keep biblical simplicity in mind to be best poised for multiplication.  We continue to work to be organized for rapid multiplication and not routine addition.
As pastors, we work to equip our members for the work of the ministry (Eph 4:11-12), and do not serve as event planners.  We work to serve people, not provide services. We are people-driven, not program-driven.
With over 6,000 unreached people groups in the world (including 3000 unengaged-unreached people groups), and approximately 560 unreached people groups (many unengaged) in North America, we are intentional about crossing cultural barriers in Birmingham, across North America, and throughout the world.  We believe that the highest priority in the world today–including in North America–is for cross-cultural disciple making that results in gospel-centered churches.
Part of being radical involves the willingness to risk everything to make disciples of all nations.  We do this for the sake of the lost, the poor, the church, and ultimately for the sake of Christ.
Are we perfect? Of course not! Do we have everything worked out in all of these areas? No.  We are always evaluating, refocusing, and making adjustments as we look forward to the Day!
Lord willing, in my next posts, I plan to share some of the practical details.  Stay tuned.
(image credit: Microsoft Office)
- September 29th, 2014
Last week, I was in Atlanta speaking at the North America Mission Leaders Conference sponsored by MissioNexus.  Their network membership and annual conference registration lists read like a Who's Who of North American mission agencies and mission leaders.  If you and your organization are not connected with them, then I want to encourage you to make such a connection.
This year's theme related to the topics of globalization, urbanization, migration, and exploitation.  One of my sessions addressed globalization and the pressure points that I wrote about in my last book.  During the session, I promised the participants they would find a copy of my slides on the blog this week.
Therefore, I'm using this post to provide access to this material.   You may find the presentation slides HERE.
I had to remove some of the graphics; WordPress would not permit me to upload such a large file to this blog.  However, I think all of the content is still there for you to recall.
For those not present, all of the sessions were recorded and will be made available for future purchase by the recording company.  As soon as I receive a link to where the recordings will be sold, I'll link them to this page.  Check back in the near future.
In my next post, I plan to continue the series I started last week.
- September 24th, 2014
We hear stories from the corporate world about research and development departments, including large sums of money spent on keeping everything a secret until the product is ready for release.  Corporate spies, insider information, classified documents, and top secret information are constantly matters of concern.
Such is not the way of life in the Kingdom.  We are not trying to roll out a better cell phone before our competitor down the street.  We understand this to be the case.  However, sometimes our practices betray our beliefs.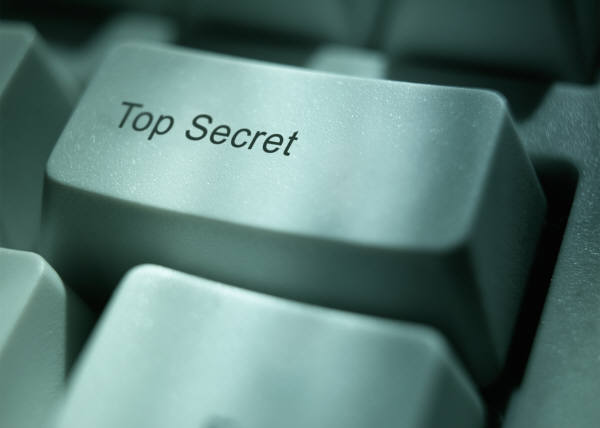 We fear telling today's stories because we don't have all of the "bugs" worked out yet.  We don't want to share what we are doing with others until we've got it "right."  We go underground with an idea and practice, sometimes for years, before tweaking it to perfection and then launching it to the masses.
Again, we are not trying to figure out the perfect hamburger before opening shop and talking investors.
We fear sharing stories that make us look like we don't have it all worked out.  Of course, we'll tell our success story and add–but if we wrote down all the things we did wrong, it would require publishing five volumes.  We fail to see the value in transparency and sharing what is not working and what is only working so-so–along side of what is working well.  Remember, the conference you need to attend is the one no one is willing to host.
By the time we figure out what is working, take to the speaking circuit, and publish a book, we are years removed from such a move of the Spirit.  While the Lord is not limited by time, He often works through contextual matters in time.  This often means that by the time your church hears my success story, she is now more removed in time than when I first experienced it.  Context shifts.  Cultures change.  Society moves on.  And your church is now five to ten years late to the game.
We must learn to compress time for the gospel.  In our highly integrated and globalized world, it is poor stewardship to fail to share what is working and not working in the moment.
For the past two years, I have served as the pastor of church multiplication with The Church at Brook Hills in Birmingham, Alabama.  My primary responsibility involves equipping our members to multiply disciples and churches from the harvest fields.  I often receive calls from leaders in other churches wanting to come to Birmingham to talk about what we are doing in the areas of leadership development, church planting, and pastoral training.  My response always involves saying–in light of sharing what is working well–I will share everything we are doing, but the bugs are not worked out, all matters are not to my full satisfaction, and I have more questions than answers at times.  One of the reasons I welcome these conversations is to give away what has been entrusted to us, even if we are only two years into the journey.  I want other churches to take what we are trying to do (warts and all) and improve upon it for the advancement of the gospel among the nations.
No top secret R&D department.
No hiding, no concealing, no embarrassments.
No what will they think if we share this now only to see it tank later.
No formula that once shared requires the termination of the listener.
No sharing only what is working well and avoiding discussion of what is not.
Sharing today's stories later today is the way of the Kingdom steward.
With this in mind, I plan to take the next few blog posts to share with you what we as a church are doing in the areas of training church planting teams and church revitalization.  It is my hope and prayer that these future posts will be of encouragement and assistance to you.  We are in this mission together.  Here is a small way I can co-labor with you in this journey.  Stay tuned.
(image credit: Microsoft Office)
- September 8th, 2014
status quo: the existing state of affairs.
innovation: the act or process of introducing something new.
When it comes to healthy growth and multiplication, leaders must keep these two definitions in mind.  While it seems cool to say, "I'm against the status quo; I'm all for innovation," such is not the way of Kingdom citizens.  The existing state of affairs is not always evil.  While there are times such matters deserve a wrecking ball, generally, such is not the case.  It is often not helpful for Kingdom advancement whenever we destroy what has been developed over years, decades, and sometimes centuries.
Also, we should refrain from saying, "I'm against innovation; I'm all for the existing state of affairs."  This is unhealthy as well.  Kingdom citizens must be engaged in innovation.  The world is a place of constant change.  We must be students of God's world, and respond appropriately.  The failure to innovate is an example of poor Kingdom stewardship.
The Book of Acts is filled with examples of the Church innovating while building on that which was already established.  The widows were not neglected because the gospel needed to advance into new areas (Acts 6:1-6).  The Jerusalem Church was not dismantled because the half-breed Samaritans received the Holy Spirit (Acts 8).  What was established in Jerusalem and Samaria did not unravel when the Spirit baptized the Gentiles (Acts 10:44-48; 11:19-30).  The Jerusalem Council did not require a discarding of matters in the Gentile world (Acts 15:1-35).  Paul and Silas did not give up and go back to Antioch when their strategy was interrupted (Acts 16:6-10).  Throughout the Book of Acts, we read of a Spirit-led Body of Christ on mission in a world filled with pressures and change.  While the existing state of affairs was not being scrapped for something new, there was a continual need for adjustment in light of sanctification, unreached peoples, and gospel proclamation.
Innovating upon the status quo is a good thing–being locked into the existing state of affairs is bad.
In light of the two billion people in the world who have never heard of Jesus, we must not lock ourselves down with the status quo.
In light of the two billion people in the world who have never heard of Jesus, we must build upon that which has gone before us.
(image credit: Microsoft Office)
- August 28th, 2014
The Global Remittances Guide, recently released by the Migration Policy Institute, is a fascinating resource.  It is estimated that 216 million people (three percent of the world's population) live outside of their countries of birth.  This is roughly equivalent to the population of the fifth largest country in the world.
Global remittances, monies sent from one country to another by those who have migrated, amount to over a whopping half-a-trillion U. S. dollars.  This is another piece of evidence pointing to the fact that once someone migrates from China to the Middle East, from Nepal to Western Europe, or from Senegal to North America, he or she often remains in frequent contact with family, friends, and acquaintances "back home."
International migration is one of the most important matters of our day when it comes to the Great Commission.  Churches, denominations, networks, and agencies must take this global matter into consideration and adjust accordingly.  Such is a matter of Kingdom stewardship.  If the Divine Maestro is orchestrating the movement of the nations for His glory (Acts 17:26-27), then the Church should pay close attention to such contemporary realities.
Take a look at this resource, especially the Total Remittance Inflows and Outflows.  I think it will give you a new perspective on the movement of the peoples.  Such movements are not just happening in one direction; large waves of people are moving from everywhere to everywhere.
MPI is to be commended on such great work and helping educate us on the world in which we live.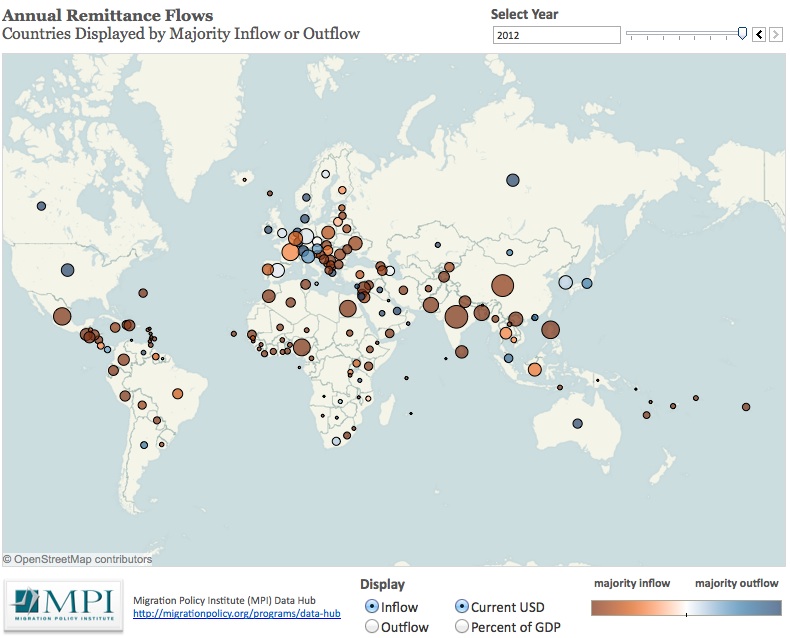 (image credit: Migration Policy Institute)
- August 27th, 2014

The trustees of the International Mission Board of the Southern Baptist Convention voted this morning to call David Platt to be the next president of the agency.  While I am saddened that I am losing my pastor, I am delighted to hear of this news.  They made the right decision.  I have a deep love and respect for the IMB and her mission.  As a friend and co-pastor with David, I am overjoyed that he has accepted this invitation.  Having served closely with him for the past two years, I believe he will bring the right vision and leadership to the agency.
The Lord used a multitude of matters to lead me to pastor The Church at Brook Hills.  One of those was David's humility and genuineness.  Before committing to the church, I wanted to know if David was the same man "behind closed doors" as he was in the public eye.  Over the years, unfortunately, I have been with a few leaders who act one way in public and another way in private.  The Lord made it very clear to me that David is the real deal.  What you see is what you get; and this is a very good thing.
A second matter of importance was related to his theology and missiology.  After a few conversations with him, I knew I had found a kindred spirit with whom I could lock arms for the advancement of the gospel.  In addition to giving priority to the unreached peoples (and unengaged peoples) and a Pauline model, David is one who strongly believes in the multiplication of churches from new disciples made from the harvest fields (Acts 13-14; 1 Thes 1:2-10).  He believes in keeping matters contextually simple and highly reproducible, without compromising on biblical ecclesiology and the whole council of God (Acts 20:27).
While space will not allow me to elaborate on other areas of related importance, I wanted to bring these matters to your attention.  David is a strong and humble leader.  He is teachable and a team player.  He is a man of prayer and fasting. He walks with God, and makes great sacrifices to see the gospel spread rapidly and with honor (2 Thes 3:1).  He seeks to be a wise steward when it comes to the use of money, people, time, and other resources for Kingdom advancement.  As a follower of Jesus, and as a fourth generation Southern Baptist, I am very thankful how he has led The Church at Brook Hills in the use of our resources in giving and going to the nations.
I hope you will join me in praying for David, his family, and the International Mission Board.  Also, please remember to pray for The Church at Brook Hills.  While we are saddened to see the Platts leave, we are thankful and excited to know that we will be able to continue to follow David's leadership as we continue to give to, pray for, and send missionaries through the International Mission Board.
Thank you, trustees, for your labors.  Many of us in Birmingham have been praying for you for a long time.
Congratulations, David!  I appreciate you bro!  Continuing to pray for you!  Looking forward to the day when the 2 billion will hear, including the engagement of the 3300 (Rom 15:20-21)!
To God be the glory!