- July 20th, 2015
Roland Allen's influence greatly shaped 20th century missions and continues to influence the expansion of the Church. Though best known for writings such as Missionary Methods: St. Paul's or Ours? and The Spontaneous Expansion of the Church, his thoughts were not always appreciated.
His adolescent grandson once asked to read his writings. Allen's response was simple but troubling: "Oh, yes, you can read them by all means–but you won't understand them; I don't think anyone is going to understand them until I've been dead ten years" (Hubert J. B. Allen, Roland Allen: Pioneer, Priest, and Prophet).
While it was not hardly ten years, people began to heed Allen's words shortly after his death. He was a misunderstood prophet in his day.
And here is something even more troubling:
Missionary Methods was published in 1912, 35 years before Allen's death.
Spontaneous Expansion was published in 1927, 20 years before Allen's death.
The Church had decades to listen to and engage this brother but gave him the time of day when his voice was no more.
Who do you need to listen to today while there is still time for engagement? Better today, than when it is too late and you find yourself saying, "I wish we could talk with him on this topic. It would be great to get his wisdom on this matter. If only we could go back ten years!"
———-
Enoch Wan was my guest on last week's episode of Strike the Match. Check out our conversation as we discuss one of the most important topics in the area of missions studies today: migration and global disciple making:
iTunes
|
Android
|
RSS
- July 19th, 2015
Today is a bittersweet Sunday.
Bitter, because dear friends are leaving our church to move across country; sweet, because we commissioned them to go as part of a church planting team.
Bitter, because unreached people groups still exist; sweet, because they are going to share the good news with them.
Bitter, because so few evangelicals know that the United States is home to the third-largest number of unreached people groups in the world; sweet, because they said, "We see at least one of them in our backyard."
Bitter, because few evangelicals are laboring to reach this large Arab Muslim population; sweet, because they said, "We're willing to sacrifice, serve, and love them."
Bitter, because evangelicals widely believe no ordinary, Spirit-called believers can be church planters without giving up their day jobs; sweet, because they are taking their marketplace skills and health care practice and relocating as church planters.
Bitter, because most evangelicals consider this team's way of thinking about church planting in North America as the exception; sweet, because they read the Word and believe an apostolic approach should be the expectation.
———-
The 20th century was called the Age of Migration. Check out last week's episode of Strike the Match. Dr. Enoch Wan and I discuss migration of the peoples and missions today: iTunes | Android | RSS
- July 16th, 2015
The 20th century has been called the Age of Migration. Presently, 232 million people live outside of their countries-of-birth. They move for different reasons. Some are relocating for a better standard-of-living and education; others are fleeing persecution, war, disease, and famine.
In this episode, I speak with Dr. Enoch Wan, one of the leading global experts in the area of migration and missions. Several years ago Dr. Wan pioneered a new area of study in missiology that he labeled, "diaspora missiology." And this burgeoning field is one of the most important areas of study today.
Enoch and I talk about the international movements of both Christians and non-Christians and how such movements have created a paradigm shift in Kingdom work. The lines are now blurred between domestic and international missions. Will churches, denominations, and mission agencies be wise stewards and adjust accordingly? Check out this exciting conversation and share it with others!
Be sure to visit EnochWan.com where you may find out more about Dr. Wan's work and publications.
Podcast: Play in new window | Download
Subscribe: iTunes | Android | RSS
- July 15th, 2015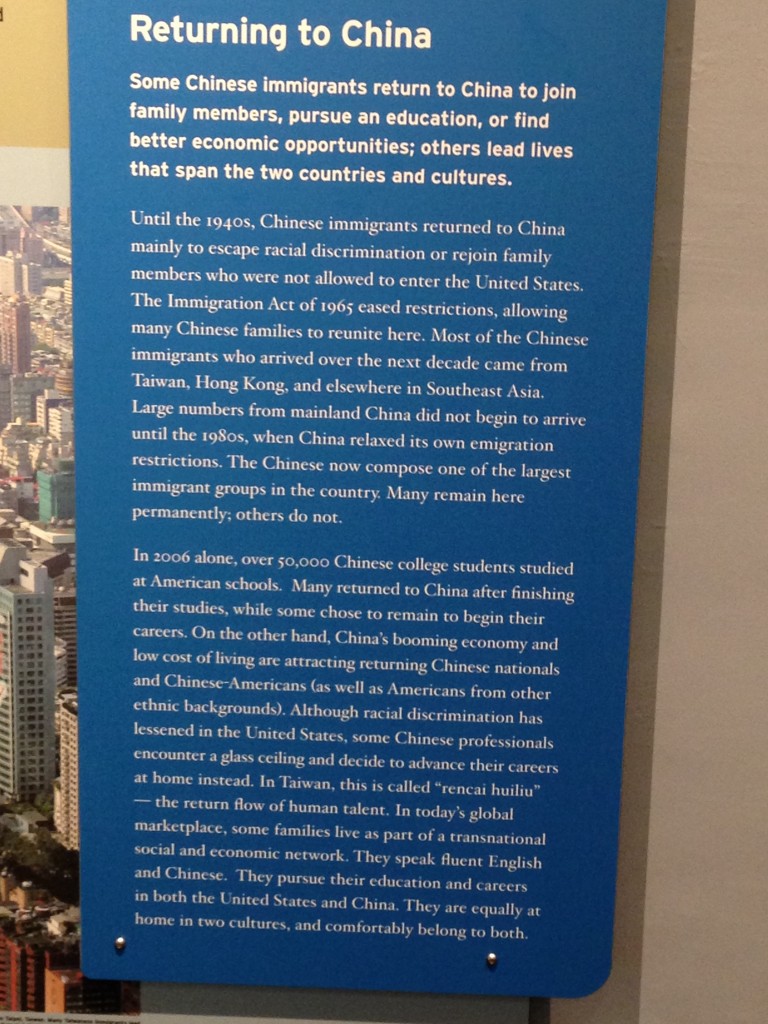 I want to share one more photo from our time on Ellis Island. Sociologists talk of transnational migration. This simply means that movers often return to their countries of birth.
This photo addresses Chinese migration to the U.S. and is a simple reminder of transnational migration.
Here are some excerpts from it:
Some Chinese immigrants return to China to join family members. . . . Others lead lives that span the two countries and cultures.
The Chinese now compose one of the largest immigrant groups in the country. Many remain here permanently; others do not.
In 2006 alone, over 50,000 Chinese college students [The number was over 274,000 in the 2013-14 academic year!] studied at American schools. Many returned to China after finishing their studies, while some chose to remain to begin their careers.
China's booming economy and low cost of living are attracting returning Chinese nationals and Chinese-Americans.
In today's global marketplace, some families live as part of a transnational social and economic network. . . They pursue their education and careers in both the Untied States and China. They are equally at home in two cultures, and comfortably belong to both.
What is said here about the Chinese may be said of many other peoples who have come to the United States.
The lines between international and domestic have been blurred for many years. When will we cease to dichotomize our theology of mission along geographical lines? When will we recognize the need to integrate "home" and "foreign" strategies? When will denominations, agencies, networks, and churches shift their structures from nineteenth and early twentieth century models for the transnational world of today?
The peoples are coming. . . and returning. . . and coming. . . and returning. . . .
———-
Brad Wall with Global Gates was my guest on Strike the Match last week. Check out our conversation on unreached people groups who have moved to the United States. Subscribe: iTunes | Android | RSS
- July 14th, 2015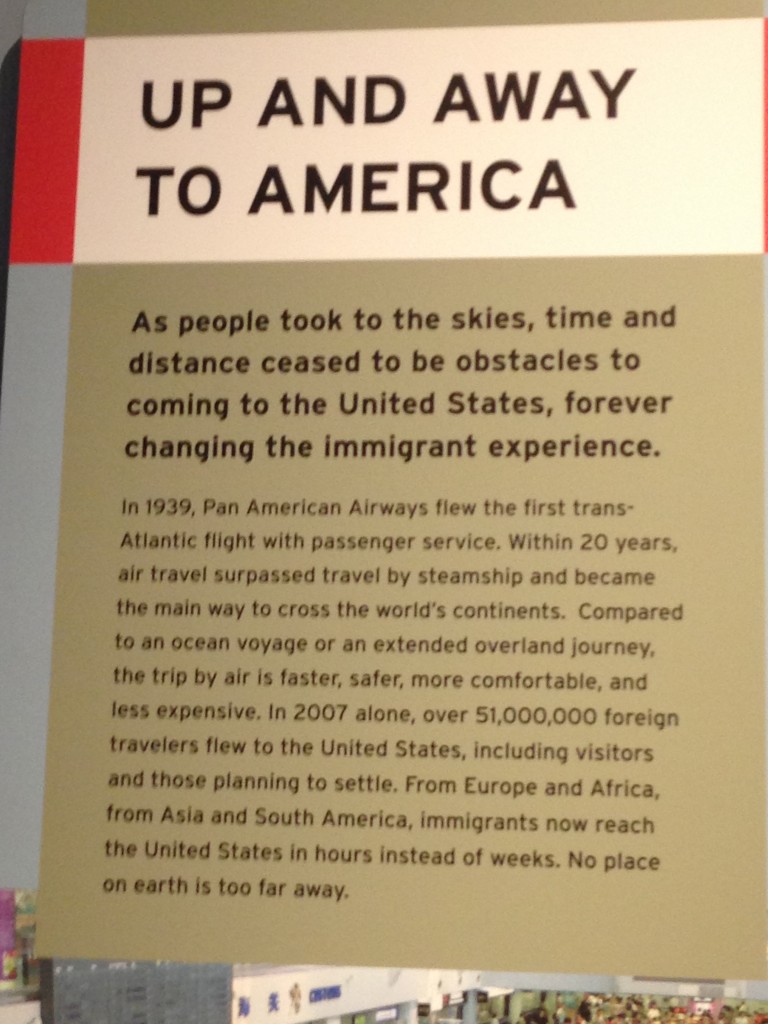 Sarah and I celebrated our 20th anniversary earlier this month in New York. We ventured over to Ellis Island and went through the museum on immigration. If you have never been there, you need to do so. The entire island is a testimony to the outworking of Acts 17:26-27.
I took this photo related to global travel. It is amazing to think the first trans-Atlantic flight with passenger service took place in 1939. In a mere 76 years, we have gone from primarily long ocean voyages to faster and safer air routes (Here is a link I tweeted earlier this week to a video showing average daily flights over Europe.).
According to this sign, 51 million travelers came to the U. S. in 2007. And don't you just love the last two sentences:
From Europe and Africa, from Asia and South America, immigrants now reach the United States in hours instead of weeks. No place on earth is too far away.
"Oh, God! Over the centuries, we have neglected many opportunities to join you as you orchestrated the movement of the nations (Acts 17:26-27) for your glory. Forgive us. Shake our generation; give us eyes to see your hand at work, hearts filled with passion, and movement toward making disciples of the unreached people groups you have moved to our communities!"
- July 13th, 2015
Three writing resources I regularly use are WordPress for this blog, Hootsuite for scheduling many of my posts at Twitter, FB, and Linkedin, and Blubrry for hosting my podcasts (which syncs with WordPress). They are all excellent resources when it comes to scheduling blog/podcast posts and updates.
I returned to the office today. I have been on vacation for the past two weeks. While I was tempted to put a note on my blog that I would not be posting Sunday-Thursday for the next two weeks or take time away from family vacation to write posts, I decided to write and schedule two weeks of blog posts and podcasts, allow them to post at a designated time each day, and follow up with two weeks of scheduled Hootsuite posts. All of this was a first for me.
Was it difficult to write and schedule this much content in advance? Yes, it was challenging.
Was it worth it? Absolutely! I care about my family. Nothing took time away from family and rest.
Why did I not just take some time off from this blog? Because I care about my readers too, and greatly value their time on my site.
Sometimes the routine discipline we set ourselves to requires another level of discipline. One that is harder, more challenging, but worth it for those you care about.
- July 12th, 2015
From 2006-2010, I hosted a weekly (mostly) podcast. Compared to today, fewer podcasters existed then. Blogging was king. When my site (northamericanmissions.org) was being developed to host the podcast, I was asked: "Would you want to start a blog instead of doing audio?" My immediate response was, "No. Blogs are for ego-maniacs who want to tell people more about the spaghetti they had for dinner, color of their socks, or how hot their wives look in ways that don't limit them to 140 characters on Twitter. No thanks, I'll podcast!"

For the next few years, I watched the art of blogging mature and reconsidered my take on it. By 2010, I grasped the Kingdom potential in such a resource and launched Missiologically Thinking. Of course at that time, pocasting was moving into the position of royalty just when I was ending my series. I prefer to think of myself as one who helped get the ball rolling in the podcasting world, rather than being out-of-touch with reality and ending my recordings prematurely (I am wearing parachute pants as I write this.).
Today marks my 501st post. While there are many bloggers who have written much more than this, today's post is a milestone from a guy who used to be anti-blogging.
Whether this is the first post you have read at this site, or you have read all of them over the past 5 years, I want to say thank you. I greatly appreciate you taking out the time to check out this site. If you are blessed by it, please share it with others.
———-
Yes, I eventually returned to the realm of the podcast. Check out Strike the Match, where I often share about being in touch with today's realities of parachute pants, acid washed jeans, and mullets:
- July 9th, 2015
The United States is home to the third largest number of unreached people groups in the world (behind India and China). The Global Gates Network is one of very few groups in North America attempting to make disciples and plant churches among the unreached peoples in the United States. In this episode I speak with Brad Wall, co-founder of Global Gates and Director of Strategy and Leadership Development. We spend time discussing the network, what they are learning about this type of ministry, the numerous opportunities to share with unreached peoples in the United States and in other counties via the United States, some encouraging stories, persecution in this country, and practical steps to get involved in such church planting activities.
This network is on the cutting edge of Kingdom expansion. Many individuals and churches are seeking the wisdom of the Global Gates Network. Check out our exciting conversation and share it with others!
Podcast: Play in new window | Download
Subscribe: iTunes | Android | RSS
- July 8th, 2015
I remember the first time I shot a shotgun.  It was a 20 gauge. I was in the fourth grade. A can was placed several feet in front of me. My puny arms struggled to hold the gun level. I attempted to take aim; it was an exercise in futility. Regardless, I pulled the trigger and the can went flying across the ground! I hit my target!
When the can was brought to me for examination. I could not believe it! It looked like Swiss cheese! I was ready to compete at a professional level!
While I had fired pistols–and missed targets–I did not know a shotgun was more accurate at closer distances. So accurate was the dispersion of buckshot, a fourth grader–who could barely aim–could hit a can several feet away.
For many years, we have likened the development of church planting strategy and methods to the shotgun/pistol metaphor.  We keep calling each other to be more focused and specific, rather than diffuse and spread out here, there, and everywhere.  "Don't take the shotgun approach!" we exclaim, "You'll hit a target every time, but it will be one that you were not aiming for.  Then you'll claim that as your target.  Not wise."
And while we know we need to be firing pistols, we keep shooting shotguns only to draw a bull's-eye around whatever we hit. What is worse, we sometimes use this as an excuse to give credit to the Spirit's unexpected work. Yes, He does work in unexpected ways, but often it is through our planning and not our laziness.
Two of the reasons for the shotgun approach is that we lack focus and fail to do our homework.  We see the can on the ground and start pulling the trigger. Zeal without knowledge is not a good thing (Proverbs 19:2).
———-
Don't miss this week's episode of Strike the Match. Brad Wall of Global Gates will be my guest as we talk about reaching unreached people groups in the United States. Subscribe: iTunes | Android | RSS
- July 7th, 2015
Connection not protection.
Share your best ministry, research, and writing ideas with others; don't follow the 10/10 rule and hoard them as if they need to age to perfection. Someone may be able to do something with them–and help you develop your idea in the process. We are involved in Kingdom activities, not competition. No secret R&D departments looking for ways to make a better hamburger.
For example, you can often get an idea about my next book by reading my blog, following on Twitter, listening to my podcasts, and hearing me speak at events.
Aren't you afraid someone will steal your ideas?
No. I don't claim those ideas as mine, but from the Lord. I just want to be a wise steward with them. I have noticed as soon as you think you have a new, innovative, creative idea, there are several other people in the world (whom you may not know) who are already thinking the very same thing. And even if someone takes an idea and runs with it, he or she will do so in a way that is different from me. We may be using the same watercolors and painting the same tree, but we are different artists with different styles.
Don't protect your ideas, connect with others and share them.
——–
Brad Wall with Global Gates is this week's guest on Strike the Match. Listen as we discuss reaching unreached people groups in the United States.  iTunes | Android | RSS