- June 15th, 2015
Sometimes the Spirit does the unexpected–requiring no intentional planning on behalf of the Church. Sometimes the Spirit works through our God-given wisdom as Kingdom stewards–requiring intentional planning on behalf of the Church.
We must hold to both approaches, keeping them in tandem and remaining at peace. But which one comes first in the tandem?
If you are Spirit-filled and have God-given wisdom, then always default to applying what you already have received and make those plans. Don't sit around waiting. This is the foolishness of the one who would advocate, "Sit down young man. If the Lord wants the heathen saved, then he'll do it without you or me!"
The birth of the Church in Philippi was a surprise. But it was in the planning and attempting to go into Asia Minor and Bithynia that the unexpected happened (Acts 16:6-7). And we should be grateful for the unexpected.
———-
I addressed the decline in the numbers in the Southern Baptist Convention on last week's episode of Strike the Match. Check it out on episode 14: iTunes | Android | RSS
- June 14th, 2015
Our church decided several years ago to simplify the way we do Vacation Bible School. In an attempt to be more simple, more reproducible, empower more leaders, and reach more families, we decentralized and de-calendarized. Instead of attempting to draw kids to our church's property for one week, we challenged our members to host VBS in their yards for the families in their neighborhoods. Instead of scheduling VBS for only one week, we allowed the hosts to determine the week that worked best for them.  We call this Rock the Block.
This shift in strategy has resulted in reaching more kids and involving more members. Our goal this summer is to have 100 Rock the Block sites across Birmingham.
As I mentioned in last week's episode of Strike the Match, we are giving away our Rock the Block materials.
John Tice, our children's minister, and his team did an excellent job developing this material. If you are interested in receiving a free complete packet, including Bible lessons and promotional materials, email Brook Hills Kids (RockTheBlock@brookhills.org) and let them know you want it. Mention you read about it on my blog.
This video is the best description of Rock the Block I have seen involving world domination:
2015 Rock the Block Promo from The Church at Brook Hills on Vimeo.
Here is a simple Rock the Block FAQ document we use.
- June 11th, 2015
This week Baptist Press released the article, "SBC Reports More Churches, Fewer People." Within hours, secular media outlets were reporting on these findings too.
For those who have been tracking these numbers, this article brought no surprises. And while there is nothing surprising here, as a Southern Baptist, I have many concerns for the tribe I deeply love.
In this episode of Strike the Match, I share some of the findings from this article, offer some general observations, and provide a few missiological concerns. The writer of Proverbs notes, "A word fitly spoken is like apples of gold in a setting of silver" (25:11, ESV). It has been my prayer that this recording will be fitly spoken at a time when the latest news about the Southern Baptist Convention is not very encouraging.
Podcast: Play in new window | Download
Subscribe: iTunes | Android | RSS
- June 10th, 2015
If being a leader means violating Kingdom principles to accomplish a Kingdom goal–even a greater goal–then I will refrain from being a leader. This is something you must determine in your heart, no matter what "success" you observe in the world–or the Church.
One of the great tragedies in the Church is the willingness of men and women to rationalize away the Way of Jesus to accomplish something great for Jesus.
This is the bleating of sheep and the lowing of oxen in the ears of our Lord (1 Sam 15:14).
You will possibly gain a following, popularity, and future generations will sing your praises–particularly the upright ones who were not privy to your compromise–but your soul will not be at rest, yes, even over one violation.
Be careful. The bleating of sheep is so so tempting. The pull of the lowing of oxen is doubly strong. And many people have given in to them in the name of Christ revealing their true nature as leaders.
- June 9th, 2015
"So he poured on him the heat of his anger and the might of battle; it set him on fire all around, but he did not understand; it burned him up, but he did not take it to heart" (Isaiah 42:25, ESV).
The mind of the dead is unable to see and understand root causes. He believes Y is the problem behind why Z has happened. She thinks all we need to do is change Y or discard it, then the problem with Z will be resolved.
The reality is that the reason we are having the problem with Z is because a more fundamental problem exists. Y is only a manifestation of a deeper issue. The problem is not Y, X, or even W, but deeper. It goes all the way back to A.
Israel was not set ablaze because he did not properly appease Baal. It was not because this or that king made a bad economic decision. It had nothing to do with a bad social policy or legal decision that occurred a few years before. And it definitely had nothing to do with Babylon having a stronger army. Of course, the politicians, journalists, academicians, scientists, and media outlets blamed these things; they saw the problem at Y.
God's wrath came because of something deeper, something foundational.
Do not be surprised when the world says Y is the problem, attempts to revise Y, fails again, and assumes what will be will be. Z exists today because of a much deeper matter–one that we have to address as we speak the greatest news ever.
———-
Would you be interested in reviewing a pre-release copy of my new book To the Edge: Reflections on Kingdom Leadership, Mission, and Innovation for your blog, journal, podcast, or Amazon? Contact me at jpayne@brookhills.org .
- June 8th, 2015
It is easier to solve a problem when the masses know it to be a problem. However, it is very difficult to solve a problem when the masses do not know it is a problem and you are the only one who sees it.
Solving known problems requires double your strength. Solving the unknown ones, quadruple.
And to reach the 4 billion???? We need Kingdom leaders who are willing to give it their all, times four.
———-
What is orality? Who are oral learners? Why are these questions such a big deal in global disciple making today? Check out last week's episode of Strike the Match and my conversation with Samuel Chiang to find out: iTunes | Android | RSS
- June 7th, 2015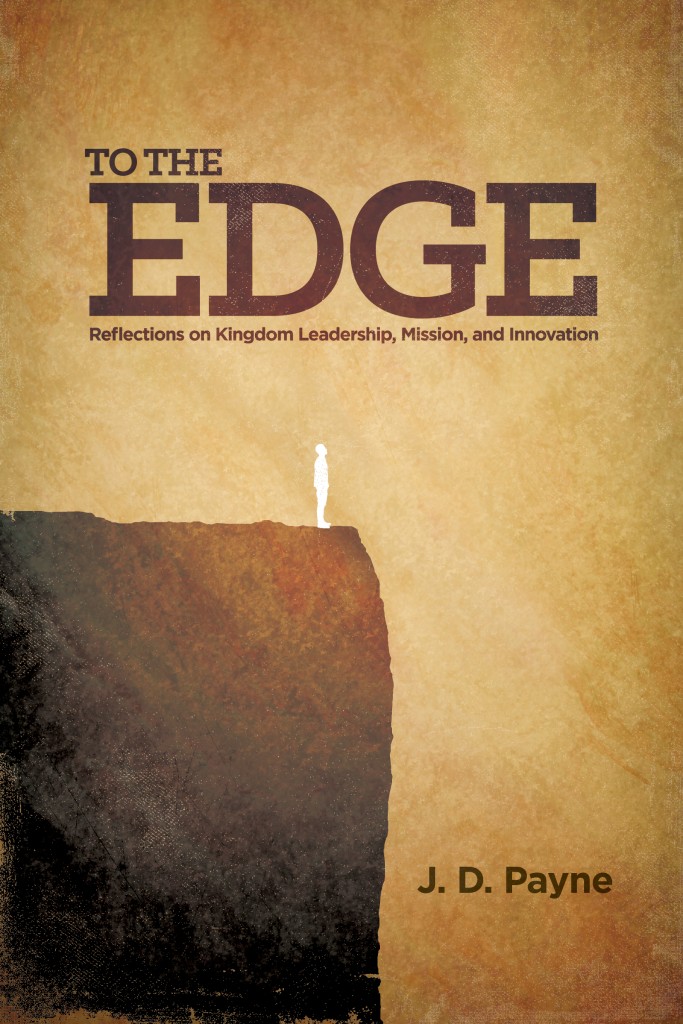 To the Edge: Reflections on Kingdom Leadership, Mission, and Innovation is a book I have been working on for a few years. It has been fun to write. And, Lord willing, it will be released this summer. I am very excited the time is near!
Since you are a reader of this blog, I want to provide you with a glimpse of the nature of the book before it goes to the masses.
To the Edge is a collection of my thoughts written over five years on matters related to leadership, mission, and innovation. This book is written to inspire, encourage, exhort, provoke, challenge, and equip you for our Great Commission task. Hopefully, these writings will nudge—and even push—you to the edge where change happens. And change must happen. The 4 billion remain without Christ.
Many people fear the edge. They try to stay as far from it as possible.
However, being on the edge means being on the frontiers of Kingdom expansion. And going beyond the edge means you are blazing new directions. You are innovating as the dynamic Spirit leads (Jesus did promise to build His Church.). You are seeing things that few people have seen.
This comes with risk. Peter, Paul, and the other early believers were not immune to persecution from unbelievers. They also experienced conflict within the Church as they went to the edge and beyond (Acts 11:1-3; 15:1-5). It is no wonder people try to stay as far from the edge as possible. But even with external and internal risks, the Church must keep going to the edge and beyond.
While evangelicals have a history of innovation and change (e.g., radio, print, unreached people groups, contemporary music, agricultural science, medicine, Jesus film), progression has never been a widespread value among our churches. More Spirit-led innovation is needed for gospel advancement and the multiplication of disciples, leaders, and churches.
This book is written to help take you, your denomination, seminary, mission agency, staff, network, or church to the edge in your context. But you will have to take the steps to get there and that important step beyond the edge.
I hope you will get this book and share it with others. Use it as a catalyst to start talking about needed changes. Use it it stir the waters of conversation among your leaders. Use it as an opportunity to lead the timid to the edge by blaming me and taking the pressure off of yourself: "Hey, do you know what crazy stuff this Payne guy is saying? I read this book. Check it out and tell me what you think!"
Stay tuned.
(For those of you wondering, yes, I did refer to this book back in February by a different title and cover. Same content. New title. New cover.)
———-
Oral learners is one of the most significant global pressures shaping the face of the Church today. Last week on Strike the Match, I spoke with author Samuel Chiang, former Executive Director of the International Orality Network, about this topic. Check it out: iTunes | Android | RSS
- June 4th, 2015
It has been said that since Gutenberg the Christian faith has walked on "literate legs." And while we are very thankful to have the Bible in our language, we often operate from the assumption that the majority of the world also prefers to learn through literate means.
However, close to 5 billion people in the world are considered oral learners. This means they cannot, do not, or will not take in information by literate paradigms. How such peoples receive, process, remember, and pass along information is critical to the Church's disciple making and church planting activities.
My guest in this episode is Samuel Chiang, former Executive Director of the International Orality Network. We talk about communicating with oral learners, how mission agencies are embracing oral methods, and his latest book (co-edited with Grant Lovejoy), Beyond Literate Western Practices which followed his 2013 publication (co-edited with Grant Lovejoy), Beyond Literate Western Models.
Podcast: Play in new window | Download
Subscribe: iTunes | Android | RSS
- June 3rd, 2015
Ed White became the first American to conduct a spacewalk on June 3, 1965. In celebration of this fiftieth anniversary, NASA released a 30 minute documentary on spacewalks and our future journey to Mars.
This is a fascinating story of innovation and progress. Of course, such is the story of the entire space program.
One of my favorite quotes from the documentary is: "when floating out in the void of space, they are standing on the shoulders of giants, making new discoveries by building on a prestigious legacy."
NASA had to keep building upon her work to get to where she wanted to go. Her strategy was simple. Go in stages. Learn. Adjust. Keep building.
And look at what mankind accomplished in only 50 years!
After watching this video, I could not help but reflect on the reality that the history of gospel advancement is similar. We have often gone in stages, learned along the way, made adjustments, and built upon what came before. And this pattern will continue. But, oh, we move slowly. So slowly. And I'm not convinced that slow progress is always from the Spirit.
The thinking and methods that brought us to where we are today are not the thinking and methods that will carry us beyond the challenges of today.  Fresh, yet biblical, paradigms of missionary thought and practice must be encouraged, endorsed, and expected by the established Church. Problems for Kingdom advancement arise whenever the structures we develop become calcified and hinder–or even oppose–the development of fresh, biblically-grounded, paradigms for missionary activity.
It takes a long time to chip away at unhealthy calcification. This is part of the reason we move so slowly.
Look at what NASA accomplished in 50 years of space missions. Our mission is far more important and more urgent. Wise Kingdom stewards build on that which has gone before, but they don't take fifty years to change.
- June 2nd, 2015
I recently shared that I would be making periodic posts on writing. Here is my second such post.
I started this blog over five years ago with the purpose of equipping the Church for the multiplication of disciples, leaders, and churches. I even put that phrase in the header. And I have attempted to stay focused on this purpose with each post.
If you are going to blog, post with consistency and do so frequently. I post something Sunday-Thursday with my Thursday post connected to my new podcast, Strike the Match. I take two days off, Friday for fun and Saturday as a day of rest. I used to post three days per week.
Someone usually says, "I do not have that much to say. I couldn't write that often." Don't think that way.
You are a leader. You have something to say not just five days a week but everyday. Yes, you can write something. Show up and do it.
This does not mean you have to be like some, writing 800-1000 words at a time. Some people can do that really well. Most can't. And many people will not tune in each day if your posts are that long. While I used to write such lengthy posts, I was sporadic and not frequent. I now don't have the desire or time for such length. My posts are often brief (this one of 525 words is lengthy for me).
Some people write blog posts that mainly consist of lists. Ten of these. Twenty-four of that. Again, some people can do this really well. If you can do that, great! I try to follow this philosophy every now and then, but usually do not. People like reading such posts. However, that is generally not me. I consider writing art and reflection of life. And consistent life and art are not comprised of lists.
Each post should communicate a single matter. Stay focused. This is much easier with brevity.
Pray. I pray before, during, and after writing. I pray for you the reader.
Blogging allows you to practice writing. If you want to write a book and have never published anything, then start blogging. Develop your writing muscles first.
Blogging allows you to develop your thoughts. Many people are afraid to post because it is not "just right" in their minds. You must push through this barrier and ship your work to the world. There is a place for wise stewardship and revision, but when it leads to perfectionism, stewardship has been left behind. It will never be perfect. I often use my blog to post ideas that are just formulating. Share today's stories later today.
Leader, start a blog. There are free options out there, but I don't like their unexpected ads that show up next to my post. Blogging is inexpensive. Begin by writing for the 5 or 10 people you know will read your work. And write consistently and tell us something at least 5 days a week.
Next time, Lord willing, I'll say something about writing books.
———
Think your church is far from being able to plant churches? Check out last week's episode of Strike the Match: "Your Church is Closer to Planting than You Probably Think."