- February 28th, 2014
Sincerity is not sufficiency.
We have a heart for the lost.
We want to reach the unreached peoples living in North America–and the rest of the world.

We need to be students of the Word.
We need to walk in step with the Spirit.
We have a heart for the poor.
Great!  Sincerity is a start, but only a start.  It is not sufficient to carry you through the race and across the finish line.
Convictions, passions, interests, and feelings are important.  But, what is your church, agency, or network doing to act upon these desires (assuming they are desires and not lip service)?  The psalmist writes, "The law of his God is in his heart; his steps do not slip" (Psalm 37:31, ESV), leading us to know that the righteous person (v. 30) is a man of both right desire and right action.
If we sat down and had a conversation with your strategy, calendar, budget, and weekly activities what would they say?
Sufficiency needs sincerity.  Just don't be fooled into thinking that sincerity is sufficiency.  The four billion remain. The Day approaches.
- February 27th, 2014
The math teacher who offers students a model for doing basic arithmetic prepares his or her class for algebra and geometry to come.  But, woe to that teacher who fails to teach that which is to be carried with a generation into high school and college; he stops the advancement of learning, progress, and hinders the development of everyone in the class.  That teacher is creating an impotent society.  The buck is not to stop with her, but to be passed on to others.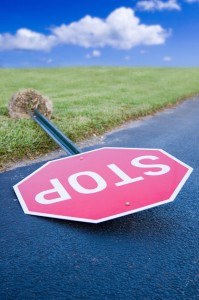 We often feel that the buck stops with us.  After all, if you want something done right, then do it yourself.  Who can do the best job? I can, of course!
However, we must understand that effective ministry is about equipping, empowerment, releasing others to possibly bigger and greater Kingdom endeavors.
Remember the words of our Lord, "Truly, truly, I say to you, whoever believes in me will also do the works that I do; and greater works than these will he do, because I am going to the Father" (John 14:12, ESV).  Wow!  That's amazing!
One of my favorite quotes from Charles Brock comes from his book Indigenous Church Planting.  Charles claims, "One man who is able to plant a church so modeled that very few ever could approximate his success is not thinking world evangelization.  He is near- sighted.  There may be room for unique models which are not reproducible, but if the world is to be reached, it will be by multiplication and not by addition."  True in church planting. True in all of ministry.
Does the buck stop with you?  In the Kingdom's economy, the buck only stops on that Day.
And since that Day has not arrived yet, we better make sure we are passing it along.
(image credit: Microsoft Office)
- February 24th, 2014
Reality #1
Hello.  I'm J. D., and I'm a pastor in your community.
Really? Where is your church?
Oh? Um. Our church has not started yet…
Reality #2
Hello. I'm J. D., and this is my family.  We're with a new church in town.
Really? Where is your church?
Oh? Um. Our church has not started yet, but we will soon…

I thought you said you were with a new church.
Reality #3
Hey J. D.! I loved your web site, announcing the new church in our city, and your Grand Opening!

Yeah! I'm excited. The church is going to start on February 29!

And what will you be selling at your Grand Opening? The new Target store just had a Grand Opening last week.
Biblical Reality
In the New Testament…
we don't read about wandering pastors without a flock to shepherd.
we don't read about apostolic teams announcing they are with a new church.
we don't read about anyone declaring a local church's existence before she is birthed from the harvest fields.
The most critical issue facing North American church planters is an ecclesiological identity crisis.
What is the local church?  Where does she come from?
Who is a church planter?  Who is a pastor?  What do they do?
The way to overcome the identity crisis is to return to the Book that provides our definitions.  But, be warned.  Once you start down that path, culturally preferred definitions, tribal expectations, personal comforts, and organizational infrastructure will push back with a great force.
- February 19th, 2014
"But he would withdraw to desolate places and pray" (Luke 5:16, ESV).
Shocking words! Unbelievable words!  I mean, how could He?  He only had a ministry span of three years.  Time was ticking. He knew this.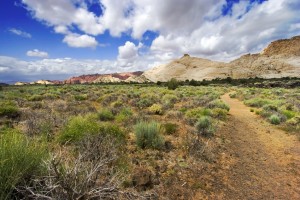 He just healed a man with leprosy (v. 12-13).  Word about Him started to spread like wildfire. The crowds, great crowds were coming, coming, coming, gathering around Him.
And for what reason?  For hearing and for healing (v. 15).  They wanted to hear what this miracle man had to say.  Could He be a prophet? Is this the promised Messiah?
They wanted to be healed of "their infirmities."
And what was Jesus' response?
He would get alone with God.
Here was a great opportunity to share the gospel.  Didn't he realize that? He said that was why He came (Luke 4:18).  Here was a great opportunity to give sight to the blind. He said He came to do that too (Luke 4:18).
Yes, He realized the importance of being there with the people.  However, He realized there was a place of even greater importance.  He would return to the crowds, having compassion on them. But now, even with the pressing crowds, it was more important to be in the desolate place.
If you are going to save the crowds, then you must leave them for the One.
Lord willing, there will always be another opportunity to share the gospel, another sermon to preach.  You will have another chance to heal people. There will always be another crowd to listen to you.
We will never be able to bear the fruit that our Father desires if we forget the source of our strength.  It is out of relationship, not routine ministry, that we are able to do the works of Him who sent us while it is still day.
In your heart of hearts, would you rather be with the crowds or be in a desolate place alone with your Father?  If our answer is the former, then we need get to a desolate place today and talk with Him about our heart's desire.
(image credit: Microsoft Office)
- February 3rd, 2014
Hasty expectations hinder the birth and multiplication of churches.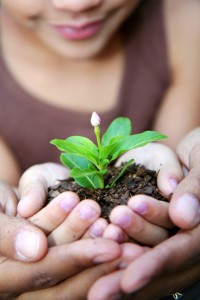 Plant your churches, just make sure they have all of this stuff, and these structures, and these activities, and these twenty-five marks, and these forty-one purposes, and this affiliation, and give that amount of money.
Such is okay when we start instant churches with long-term, Kingdom citizens.
They have years of sanctification.  They have a long history of church cultural expectations.  We should expect much from such churches, for much has been given to them.
But planting instant churches is to be the exception to our strategies, right?  There is a place for it. However, we should permit it as the exception, not the expectation.  It is not a regulative paradigm in the New Testament.  The gravity of the biblical evidence is that churches are to be birthed from the harvest fields.  Biblical church planting is evangelism that results in new churches, not the shifting of sheep in the Kingdom.
Such theology is important, for it keeps us from having unrealistic expectations for churches planted with new believers.  These churches just started the sanctification process.
Don't expect them to manifest a maturation level as a church that is ten, twenty, or fifty years old.
Don't strap them with things our Father expects for them to grow into overtime.
Don't hinder the babes by telling them they must be running immediately; they just started crawling.
Are they a regenerate, baptized group who self-identify as a local expression of the Body of Christ? Have they covenanted before the Lord and one another to live out the Kingdom Ethic (found in the Word) in relation to God, each other, and the world–not fully understanding what all that means, but because Jesus expects it then they are willing do it?
If so, then you have planted a church that is poised for the multiplication of disciples, leaders, and other churches.  You have planted the church that is.
For now, teach them the Word and how to study and apply the Word in private and in community.  The Spirit and the Word will sanctify them.  All of those marks, purposes, manifestations, and expectations will come as they are built up in Christ (Col 2:6-7; 1 Pet 2:1-5).  That is the church to come.
(Image Credit: Microsoft Office)
- January 22nd, 2014
We live in the instant.  Human interconnectedness has increased across the globe.  On our phones we can get news of protest marches happening in Cairo, Skype with someone in Tokyo, and receive e-mails from Bangladesh–simultaneously.  We move in the moment.  A person can physically be anywhere on the planet within forty-eight hours.  Globalization has resulted in an accelerated, compressed, and intensive way of life for many.  All areas of life including economics, religion, family dynamics, and education have been affected by this global pressure point.
Yesterday, I saw this fascinating, inactive post at The Guardian, showing global air travel in real time.  If you don't believe in our connectedness, this will convince you.  Click on the screenshot below.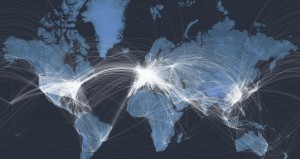 The nations are on the move in our highly globalized world.  The question is not how will you and your church prepare for such matters in the future, but what should you and your church be doing in the present? That future is now.
For more information on my take regarding our globalized world, check out my book Pressure Points: Twelve Global Issues Shaping the Face of the Church, released a few months ago with Thomas Nelson.
- January 2nd, 2014
I want to point you to a valuable resource, one of few related to reaching the unreached nations among us. Ethnic Embrace USA is a book that you will want to add to your collection.  Part information, part devotional, part prayer guide, this book turns our focus to several of the upgs who have migrated to the world's largest immigrant receiving country.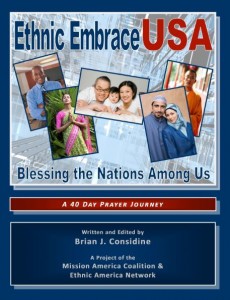 Since the publication of Strangers Next Door, people have asked me about practical resources to assist in reaching the nations among us. Unfortunately, few exist at this time. Ethnic Embrace USA, with its focus on prayer, helps fill this need.  I recently ordered copies for our church's elders and small group leaders.  I hope you get this book and put it to use with your leaders and church.
I recently communicated with the author and editor, Brian Considine, about this work.  In today's post, I want you to hear from him.
Why did you write Ethnic Embrace USA?
This work really originates in a conversation I had with Cindy Wiles, of Kinnexus Network, in April 2012. Cindy and I were discussing the Perspectives Study Program and the need for an "easy on-ramp" for more folks to understand the mission of God. Many folks today are talking about living "missionally" or "radically," but at the time other than Perspectives, the only work that I was aware of that developed the grand metanarrative of Scripture was Christopher Wright's The Mission of God, which is a tome. So the question was, "How can we equip more folks to understand the mission of God's story." At the same time, I was in discussion about the need for more focus on the diaspora peoples of the USA, which is a new chapter in what God is doing today. I wrote Ethnic Embrace USA to try to bring these two ideas together in an approachable way.

What do you hope the reader will get from this book?
We have a great need in Evangelicalism today to become learners, especially as it relates to other peoples of the world, or as you call them – "strangers who live next door." It is a sad fact today that 60% or more of non-Christians in the USA say they do not know a Christian. I think the challenge for the Church is that we just haven't learned how to be good "welcomers." We need to learn about the importance God places on welcoming the foreigner. Jesus did say, "I was a stranger and you welcomed me in." That should motivate us to learn about these New Americans. I think it's also important to learn, or better grasp, the story we are living in – or as like I call it "His-story" – God's plan for the nations. By understanding these two ideas together, I think we can respond better to what God is doing in bringing us the nations, the unreached people groups of the world.
How do you see Ethnic Embrace USA being used?
In the book, I outline some steps to get the most from what I call a "40 day prayer journey." I hope folks will take the time to go through this slowly, over 40 days, and not just read it like you would most other books. The two sections of each day: "Diaspora People Profile" and "Mission of God" focus require a solid investment of time. But slowing down is a good thing and very much needed to embrace the nations among us. To enhance the learning experience there is also a companion website with even more learning resources and the mission of God focus is packed with additional Scripture to explore. The prayer focus brings this all together for informed prayer and there is space for journaling. And, certainly we need more prayer!
Who is the audience for Ethnic Embrace USA?
I wrote this with the local church in mind, for the person sitting in the pew wondering what God has for them to do, as a way for local churches to learn together and then mobilize to respond to what they are learning. Toward that end, we are offering churches the opportunity to put this in the hands of their folks at discounted prices. My hope it that many churches will take this journey together to bless the nations among them in their cities.
Where can we order Ethnic Embrace USA?
Orders can be placed through our website www.EthnicEmbraceUSA.net.
- December 11th, 2013
I received a bittersweet compliment today:  "I've been involved in church planting and always thought it had to be complex and complicated, but then I read Discovering Church Planting."  While I am honored and deeply appreciate this word, I am troubled that such a paradigm shift had to occur.
If the first century disciples approached church planting with the complexity we have in North America, the gospel would have never left the Middle East.
There is little room at the church planting table for anything simple.  We fail to remember that the complex King we serve operates through some very simple means.
Do the biblical parameters allow for ecclesiological complexity in the Kingdom? Yes, in certain situations.  However, we must also recognize that the Kingdom Ethic requires us to be wise stewards with our Christian freedom.
And in light of the four billion who have yet to call upon the name of the Lord, I often wonder if our complexity hinders many from hearing.
- December 8th, 2013
When I wrote Strangers Next Door (2012), I shared stories of churches that caught the vision of reaching unreached peoples who had migrated into their neighborhoods. These churches–with these new believers–then followed those social networks across the world to reach others.  In today's post, I want to draw your attention to Valley Baptist Church in Bakersfield, California.  For here is a church who asked about the unreached "over there" and came to see them "over here" as well.  You should read the full story by Emily Pearson.
In 2011, Valley Baptist decided to reach the Tijaltepec Mixteco people of Mexico. At that time, they were an unengaged-unreached people group, meaning that not only were they less than 2% evangelical, but no known church planting strategy was being implemented to reach them (there still remains approximately 3000 unengaged-unreached peoples).
As the church began to reach into southern Mexico, they quickly learned that the Tijaltepec Mixteco were living in their backyard.
You need to check out the video below.  One of my favorite quotes is when co-pastor, Phil Neighbors states, "To our amazement, we found out that 25 miles from us are approximately 700 of our people group. They had migrated from Oaxaca, Mexico, here, to work in the Central Valley of California."
The church decided to reach out to this unreached people group for a fellowship event.  400 Mixtecos showed up.
In addition to their church planting labors in Oaxaca, the church has started 12 Bible studies among the people in Bakersfield with plans to plant a church.
Here is the 3-minute video on what is happening between Bakersfield and Oaxaca. Check it out!

It is my prayer that more and more churches across the world would recognize the Kingdom potential of the movement of the nations and our responsibility as Kingdom stewards.  We live in the age of migration and are witnessing the outworking of Acts 17:26-27 in an unprecedented way.  The Divine Maestro continues to orchestrate the movements of the nations for His glory.
Thank you International Mission Board for reminding us of the importance of an integrated strategy–melding together the foreign and the domestic–when it comes to reaching unreached people groups!
Do you know of other churches doing work like Valley Baptist?  If so, I would love to hear about them. Share in the comment section below or send me an email at jpayne@brookhills.org.
Until the strangers next door are strangers no more!
- November 27th, 2013
Arrogance is a blight in the Field of the Kingdom.  Many struggle with it.  Some of us privately. Some of us publicly. Unconfessed, it grows and consumes, grieves and quenches, always resulting in death. The individual may accomplish many great things while covered with this blight, gaining the praise of many, but accomplishing nothing for the Kingdom–for the Vine does not tolerate blight no matter the results.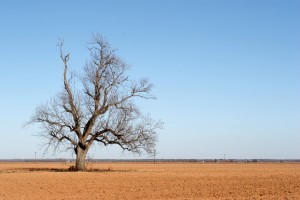 Knowledge puffs up. And so does missiology.  Yet, the Lord calls us to walk humbly with Him, which includes the way we approach Him, His mission, His Church, and His world.  We all have a missiology by which we live.  But is it a humble one?
Among many things, a biblical missiology is humble, always willing to grow in understanding of God's truth and the application of means to the real world for the multiplication of disciples, leaders, and churches.
A biblical missiology is humble, clinging tenaciously to a scriptural foundation, holding tightly to principles, but loosely to strategy, methods, traditions, organization and structures.
A biblical missiology is humble, focused and sure before arriving on the field, but allowing the Spirit and context to shape the application of never-changing truth.
A biblical missiology is humble, patiently and graciously bringing brothers and sisters along in the journey who have not been eating and drinking in Kingdom-expanding concepts for as long as you have.
A biblical missiology is humble, knowing with confidence what it knows but open to correction and new directions.
I have observed a great deal of arrogance over the years, in both my life and in the lives of many others.  And we evangelicals seem to be okay with it–as long as such people are not doing anything really bad but doing really good stuff.  But what would it profit us to make many Great Commission accomplishments in the name of the King, only to have those wins to be rejected by the King?  (Remember, people will do great things for the King, but He will deny knowing many of them–Matt 7:21-23)
The Farmer is never okay with blight in His Field.
If we truly recognize that we are "unworthy servants" (Luke 17:10) in this journey, then we must run to the Spirit to enable us to turn from that which so easily entangles us.  We must plead for grace to embrace our great salvation, commission, other brothers and sisters, and the world with a contrite and broken spirit and a heart filled with love.  We must move forward, wearing a towel instead of acting as if we are sporting a kingly robe.
May the Savior empower us and show the way to live with a humble missiology in light of the 4 billion!
(image credit: Microsoft Office)