Here is the study I just completed related to the concentrations of Evangelicals in the U. S. and Canada.  You need BOTH the report and the PowerPoint presentation.
WHY THIS STUDY?
The Spirit uses good research to guide missionary strategy
To show the need for up-to-date studies and call Evangelicals to conduct better research (the best data is several years old)
To show the least evangelical areas in the U. S. and Canada
To urge missionaries, churches, and mission strategists to consider the importance of focusing on the most needy (and most receptive) areas
From 35,000 to 15,000 Feet
For the most part, Evangelicals in the U. S. and Canada have done a terrible job when it comes to knowing what is going on in our "backyards."  We have proven ourselves in areas of research related to other countries.  I am amazed we have a fairly good understanding of what is taking place among a people group living on the backside of the  Himalayas, but little knowledge of the same people group living on the other side of our city.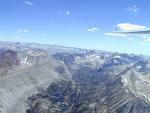 This report is an attempt to provide the Church with a glimpse of what are the realities at the state/province, county, and metro levels.  It is an attempt to zoom-in from our current "high altitude" perspective to a lower level.  The closer we get to the ground, the better our understanding of reality.
While this data has been available for several years, I am not aware of any evangelical group that has collected it, organized it, and given it away to other evangelicals for developing mission strategies.
What you will find
Percentage of Evangelicals in each U.S. state
Evangelical Church to Population ratio in each U.S. state
A sampling of some U.S. counties with an evangelical population of less than or equal to 10% AND the evangelical church to population ratio in each of those counties
A list of U.S. metro areas with less than 10% evangelical population
A specific list of U.S. metro areas with less than 3% evangelical population
The number of evangelical churches and the evangelical church to population ratios in selected Canadian metro areas
Please take these resources and give them away for Kingdom advancement.
I plan to follow up in the next several days, providing specific posts related to this study.
Get the Report Here
Get the PowerPoint Here (10.8 MB file)